Mens Golf Shines in Conference Tournament
C. Hall, Staff Writer
April 26, 2022
Yesterday at Keith Hills Golf Course, Green Level golf's postseason began. High School golf playoffs takes place throughout 3 rounds. Before this match, Green Level sat in the 3rd position in the conference, with a top 4 finish already locked up. A regional place was secured, but this tournament gave a chance for the gators to gain confidence before Regional Playoffs.
This 18 hole tournament was set up uniquely, where the team played the same 9 holes, twice, for a total of 18 holes. This gave everyone a chance to improve on their front 9, having knowledge of the course the second time around. This helped Sophomore, Cooper Champ, improve on his final 9 holes by 4 strokes, with an even par score of 35.
This tournament saw Green Level have the best 18-hole performance in history, with a score of 292, and an average of 73. The low round for the gators went to Senior, Ben Hays, who fired off an impressive 71. Drew Eggers shot a 73. Caden and Quin Covington both shot 74s.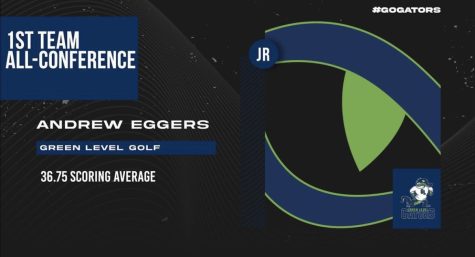 Three gators were nominated for All-Conference. Drew Eggers, was nominated for First Team all conference, with a scoring average of 36.75. Drew said that "at the beginning of the season, I wasn't really thinking about it. But as the season went on, I realized it was more possible, so I went for it and fought really hard." Senior Benjamin Hays was nominated for second team all conference this season with an average of 39.12. Right behind him was Freshman Quin Covington with a average of 39.25. Quin was the only freshman to make an all conference team, Congratulations Quin! I asked him how he feels about the nomination… "It feels really good. I worked really hard the past few years and it pays off"
The Regional Tournament is next Monday. Go gators!