Gators Bite Down On The Bengals
On Tuesday, August 30th, our defending 4A state champion volleyball team faced off against the Fuquay-Varina Bengals.
Before the game started, I interviewed Asia Thigpen who is a new transfer this year, who is proving to be a strong force on the court and a great addition to the team.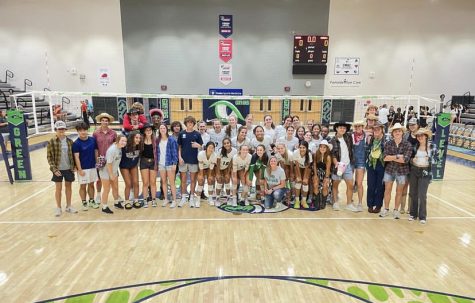 How are you feeling going into this game?

After we got swept by cedar ridge we talked and decided we need to up our practice intensity, so I'm excited about the game and I think we're ready.

How does your addition to the team help everyone build on last season?

I think I bring experience and have learned to be more of a leader.

How do you plan on living up to the success of the team after they win states last year?

We always need to practice with intent and play with intensity to respect the people who played last year.

How do you plan on building off these early losses?

I think we've learned to lean against each other more when times get tough and competition gets better and it has forced us to bond as a team more.
This game was the first after a tough loss to the 3A state champions, Cedar Ridge, and with the Gators wanting this win badly, it was bound to be a great performance. The Bengals came out wanting it too, taking a lead quickly in the first set, making the score 18-11. The Gators weren't going down without a fight and managed to come back, scoring 14 of the final 18 points of the set, winning the first set 25-22. They carried this momentum through the second set, dominating and winning this set 25-14. At this point, there was no stopping the Gators, and the third set was 25-15, resulting in a 3-0 Gator win, improving their record to 6-2!
On Thursday, Sept. 1st, the Gators have their first conference game at home against Cary. Great win and good luck Gators!