Rishi Sunak becomes UK's Prime Minister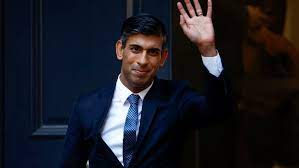 The first Indian-origin Prime Minister of the UK, Rishi Sunak, got a lot of global attention these past few weeks. The previous Prime Minister, Lizz Truss, had a lot of policy proposals on spending and tax cuts that caused public disagreement. With Sunak's pragmatic personality, citizens of the UK felt like he would be an ideal candidate. 
Rishi Sunak entered parliament in 2015. In just five years, he got appointed as finance minister by Borris Johnson. Since then, Sunak quickly gained power in British Politics. He's now not only the first nonwhite person and the first British Asian to serve this role, but he is also the youngest prime minister in more than 200 years, at 42 years old. 
Putting more ethnic minorities in senior positions in the government has become prioritized recently in the Conservative Party. The public hopes to continue seeing more ethnic diversity in the British government in the upcoming years. 
Rishi Sunak's new position in power is a big step for the future of British politics.