The Green Screen: We Review Fractured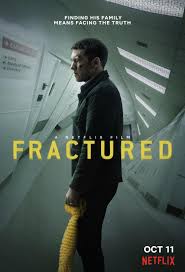 The Netflix movie Fractured is about a father whose daughter suffered a fall that caused her to go to the emergency room. After arriving at the ER his wife and daughter mysteriously disappear, and as he tries to find out what happened he clearly realizes that something has gone seriously wrong.
Overall reviews have been fairly positive, with a rating of 6.3 out of 10 and a rotten tomato score of 62%. Reviews have said: "I was wrong and then I was wrong again. Good twists." It has also been called: "a solid thriller."
I thought that the movie was very entertaining with a great plot and amazing story line. I especially liked the last 30-45 minutes because you finally start to understand what it happening. The soundtrack did a great job of putting you on the edge of your seat in certain parts. Lastly, I thought the movie had great character development throughout the movie, especially in the end when you finally realize what is happening and what has been going on the entire time. I give this movie a 8.5 out of 10 because of the amazing actors and plot of the movie.
If you would like to watch check out Fractured, it is available on Netflix.