Artist Spotlight: Morgan Fazio
Welcome to another Gators Eye artist feature! Each week, we interview and shine the spotlight on a different student artist. This week's star student is Morgan Fazio.
Morgan is a junior at Green Level. Besides art, she also shows her creativity with cooking and baking. She loves trying new recipes, but she loves the feeling of sharing her food with the people she cares about even more. Visual arts aren't her only strength–Morgan's played the piano for ten years. "Being able to sit down and melt away any stresses with a beautiful song is a great feeling," she explains. She's also a huge Carolina Hurricanes fan, and looking forward to hockey matches is one of her favorite things!
Morgan took art classes through middle school and enjoyed them a lot, but also says art's "in her genes" thanks to her family's shared love for it. She's noticed that through these classes, she tends to put her unique spin onto any project prompts. When she started going to Green Level, the direction Mr. Mapp gave her a chance to experiment and explore more about the field. "Being at Green Level has been really impactful on my art journey," Morgan says. "Without the help of Mr. Mapp and the art program, I probably wouldn't have considered an art career for myself in the future."
Morgan uses many different mediums in her art. Graphite, paints, makeup, and embroidery are only a few of the tools she uses to show her creativity. She also loves photography for its way to capture moments in time. Morgan's use of sharp lines and clear meaning gives her a very distinctive style throughout all her mediums. "I would say that it's analytical/clean but creative," she says. Her embroidery is neat and clean, her makeup is bright and meaningful, and everything she creates is distinctly her own. 
When asked if she had any advice for other artists, Morgan gives her honest words of encouragement. "Art is not just one way, so create the art that makes you happy and that represents you instead of trying to create what you think the world wants you to create," she shares. "Be creative, stay humble, and dream big!"
Thank you to Morgan Fazio for her interview! If you would like to recommend yourself or another student for our artist spotlights, please email [email protected].
About the Contributor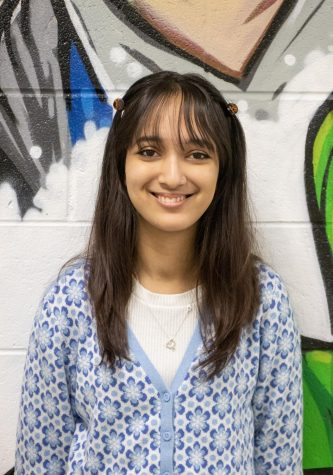 D. Khan, Co-Editor In Chief
Daneen is a senior writing for her fourth year on The Gators Eye. When she's not in class, she's binging old Disney movies, reading comic books, or...