Official Super Bowl 55 Predictions
B. Hays, Sports Editor
February 5, 2021
Over the past couple of weeks, The Gators Eye has collected information, finding out where the Green Level community stands on Super Bowl LV between the Tampa Bay Buccaneers of the NFC and the Kansas City Chiefs of the AFC.
We had 23 responses, some from football fanatics and others from casual fans, all ready to watch the big game this Sunday. The spread for Sunday's big game is Chiefs by 3 and it seems that the Gator Community is representative of that with KC winning the vote count 13-10.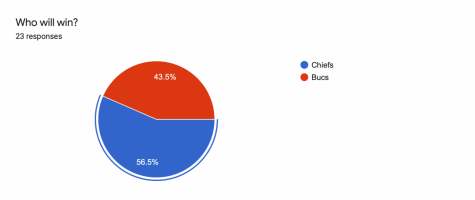 Analysis
Those who think the Bucs will come out on top found one common reason why: Tom Brady.
Out of the 10 respondents that chose the Bucs, only 1 didn't mention Tom Brady in their reasoning. In fact, many kept it short and sweet.
"Tom Brady never loses" -Ethan Stein
"Tom Brady will show why he is the GOAT" -Daivik Nambiar
"Brady will do his usual playoff magic to tie it up, with the win being sealed by a field goal" -Luke Smith
History has proven that putting your faith in Tom Brady usually isn't a bad option. But can he lead the Bucs past the high-powered Chiefs?
Those who think the Chiefs will come out on top have a wider variety of reasons. The focus seemed to be on the high flying offense that surrounds Patrick Mahomes and a much-improved defense that could cause trouble for Brady and the Bucs.
"The Chiefs are a better team all-around, the Bucs just have a good offense." -Michael Andrew Stanton
I think the Chiefs will be able to pull this one off because of their historically good passing attack. -Owen Watts
But it wasn't just the Bucs supporters that found a way to bring Brady into their reasoning, "Tom Brady sucks," says Steve Lim. Clearly, a happy Super Bowl Sunday for Steve, will not involve Tom Brady in the post-game ceremony.
---
What are the Gators most excited about for Super Bowl Sunday?
This question had a multitude of answers but the five most common responses were
Brady vs Mahomes matchup

The Halftime Show

Hanging out with family and friends

The food

The ads
As Kavin Meenakshi put it, "Everything about it,"
Tune in this Sunday at 6:40 pm ET for Super Bowl LV.