Committed: Ellie Sampson to Stanford
Ellie Sampson has committed to the application process at Stanford University to play beach volleyball
Ellie Sampson, a Junior here at Green Level, has committed to the application process at Stanford University. 
Sampson has been a prominent force in the attack on our school's volleyball team. This past season she received the MVP Award following the 4A Volleyball State Championship game against Ardrey Kell.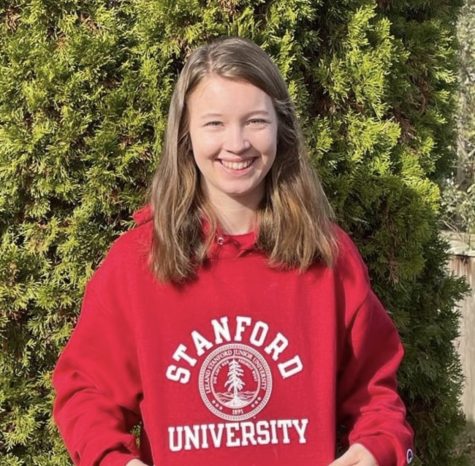 Stanford University is a private institution located in Palo Alto, California.
"For Stanford athletes, you apply early, so I'm applying this March and I am a junior," Sampson states.
She informed us that student-athletes need to finish the application process prior to announcing their commitment to play a sport at the University.
"I can say that my coach has never had anybody not get in that was committed, so hopefully that will work out…It'll probably be towards the end of June or the beginning of July that I'll find out if I got accepted."
When asked how she feels about her commitment to the application process Sampson says, "It feels awesome of course, it was a lot of stress relief when you're done with the recruiting process. I just feel like I can focus now on getting to a point where I can win in college instead of focusing on impressing college coaches."
"I definitely wanted to go to a school that was academically really high-level and where I could just have a really good environment for beach volleyball…I really like the coaches there and just the team there in general. I feel like it is the perfect fit for me," Sampson states.
We wish Ellie the best of luck as she continues her beach volleyball career and makes her way through the application process at Stanford!