Undefeated: Stunt Team Takes Two Victories This Week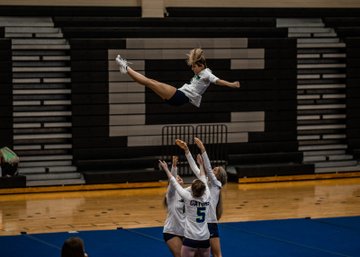 Last night the stunt team faced off against both Middle Creek and Sanderson high school. Going into the game the Gators were currently undefeated, and were eager to continue their streak. This was the first year Green Level High School has had all four grades competing in athletics, and what's even more challenging for the stunt team, is that this is their first season in school history as it was canceled in years previous. So it is safe to say that going into this season the team did not know what to expect, despite this they have done an outstanding job winning their first three games. 
Last night the Gators were able to take out middle creek in an impressive 18-4 win. I spoke with Coach Mack, and she said that their first game was very clean; however, the next matchup against Sanderson was expected to be much more challenging. Nevertheless, the Gators were able to have a near perfect routine against Sanderson, Coach Mack noted that they were able to correct their mistakes from the first game. She also stated that the team had mastered their "pyramid 6 routine" just the night before competing. 
These were great performances by Green Level currently putting them 5-0 and continuing their undefeated streak. The stunt team has done a great job so far and are preparing for what they believe will be their most challenging matchup yet, against Apex. The game is Thursday at 5 o'clock, so good luck to the Gators, and be sure to come out and support the team.