First Ever Men's Lacrosse Senior Night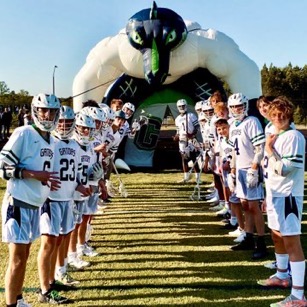 On Tuesday night, under the lights, 11 seniors were ready to make a big statement against Panther Creek for their big night. The 2021-22 school year is the first year Green Level will have a senior class, also meaning it is the first year sports teams can celebrate their seniors with senior night.
After beating PC by 19 points the last time they faced off, The Gators were very confident going into this game. The Gators started off very strong right off the bat, putting up 6 goals and holding PC to 0. The second quarter was very similar with Green Level putting up 8 goals while maintaining their shutout, making the score at the end of the first half 14-0, with The Gators in the lead. In the third quarter, the game slowed down a little bit, with The Gators only putting up 3 goals and allowing The Catamounts to score one. The Gators managed to close out the game in the 4th quarter with 2 more goals, bringing the final score to a 19-1 Gator victory.
Senior, Dean Hryn was the top scorer for this game, putting up a whopping 5 goals and 4 assists. There were two major accomplishments done in this game, with sophomore, Jackson Spells reaching 100 career points, and Senior, Zach Mansfield getting his 100th takeaway. Mansfield has two more games to reach 104 takeaways, which would put him in the history books as the most takeaways in the state. I asked Dean Hryn a couple of questions about the game.
What did you do to prepare for this big game?
I worked really hard over spring break, keeping the stick in my hand and working on my stick skills. I also listened to painted black by The Rolling Stones.
How do you feel all the seniors performed for their big night?
They all performed very well and I was so proud to see the team come together after three years of hard work.