Ukraine Food Crisis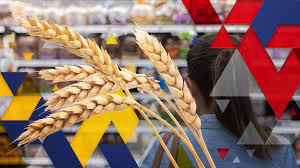 As the ongoing war in Ukraine progresses, we are facing the largest global food crisis since World War 2. With Ukraine being a significant contributor to the world's wheat supply, the Ukrainian farmers who produced this wheat have been sent off to fight in the war. Egypt, for example, gets 85% of its grain supply from Ukraine. Ukraine and Russia are also global corn and sunflower seed oil producers. As the Russian navy continues to block Ukrainian ports, we are expecting a rise in already high food and fuel prices. 
The USA hasn't been as affected by this food shortage as other countries that rely heavily on Ukrainian imports. This includes Lebanon, Pakistan, Libya, Tunisia, Yemen, and Morocco. 
The global food market is not only facing a food shortage because of Russian influence, but also because of the sanctions the west put against Russia. Regardless of the causes, we are at risk to face increased worldwide famine.