It's true: teenagers still form garage bands and play live music together, just like in the movies. There's even a vibrant scene of live music by teens in our own backyard; across the Triangle in Cary, Apex, Holly Springs, Fuquay-Varina, and more, there's an interconnected community of local teen rock bands. They play gigs in many local venues, uniting teens from high schools and colleges all over the area.
They often come together and perform at Teen Showcases, such as the one held this past Saturday (September 23rd) at the Local Bar in Apex. This event was put together by Larry Walls of Sound By Walls, and included many teen artists and bands, some featured below.
Midnight Sun
Midnight Sun was formed from the students of Rock N' Roll High School's 2022-2023 House Band. Their House Band is made up of the music school's most skilled students, who audition to be in a band that plays gigs all over the area. Midnight Sun mainly plays rock music but dabbles in other genres such as alternative and pop.
Midnight Sun consists of Lead Singer Regan Butler, Lead Guitarist Ty Yobs, Rhythm Guitarist Eli Munger, Drummer Blythe Klayner, Bassist Kyne Starler, and Keyboardist Shelby Schneider. After playing together for a year as the House Band, they decided to stick together and continue to play gigs independently, despite Ty and Blythe graduating high school and aging out of the House Band program. The two attend college locally, so Midnight Sun continues to perform on a regular basis.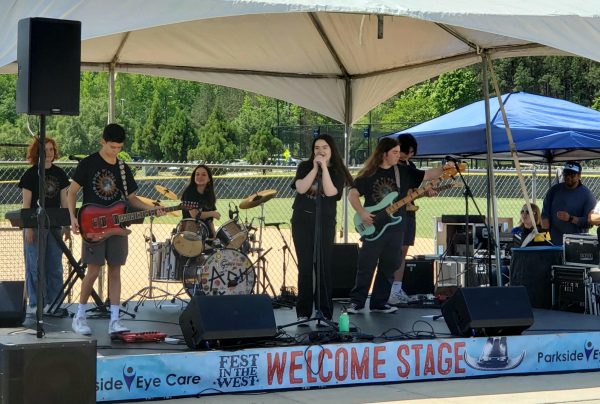 Midnight Sun performs covers and originals at locations such as The Fainting Goat, Abbey Road Tavern & Grille, Aviator Pizzeria, and The Local Bar, and has been featured at events such as the Spring Daze Arts and Crafts Festival, Peak City Pig Fest, and Fest In The West. They're most known for putting their own twists on classic songs, appealing to audiences of all ages. Their drummer, Blythe, can always be seen having the time of her life on stage, empowering the other members to dance along to her rhythm.
They were the closing act at this weekend's showcase, and all members wowed the crowd with their skills and energy. This showcase was Midnight Sun's first time playing at the Local Bar; it's a relatively small venue, and they bring the volume, so it gets a little ear-shattering. "I think we're all going deaf but we love it," remarked Regan during their set. Midnight Sun's next show will be this Saturday (September 30th) at the Fainting Goat.
HapyValy
HapyValy (formerly Magellan) is another teen band, formed from a group of five friends who decided to come together at last year's Fuquay-Varina High School senior sunrise. The band consists of Lead Singer Anthony Forzaglia, Lead Guitarist Ty Yobs (who plays in Midnight Sun and Taylor Sharp and The Sharpies as well), Drummer Xavier Heggie, Rhythm Guitarist Colin Bid, and Bassist Reed Johnson. The five are known for their onstage antics, including swapping instruments to show off their musicality, as well as their lead singer's powerhouse voice and occasional acrobatics.
HapyValy's notable performances include those at the FVHS Prom, the FVHS Senior Sunset, the Fainting Goat, Cultivate Coffee Roasters, and many local teen showcases. They even released a single this July, called "My Time With You," which is available on all streaming platforms.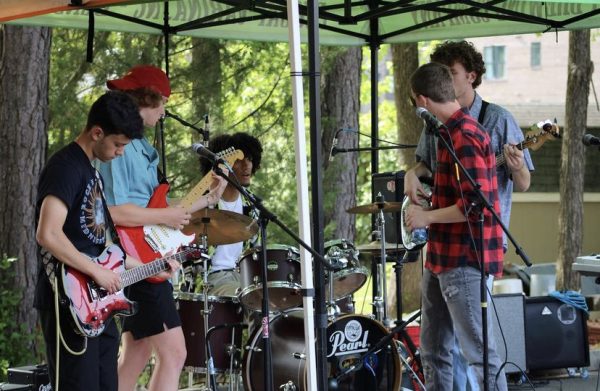 The boys of HapyValy have all gone on to their post-high school paths, displaced across different cities and states. Most members went on to attend college, while their lead singer, Anthony, has joined the Army. While Anthony is in basic training the group is on a short hiatus, but has been teasing a comeback ever since their frontman's departure. They recently announced their first show back since their break: November 24th at Abbey Road in Fuquay. Local live music fans are teeming with excitement at their return, and are pleased to hear they'll also be performing the next day, November 25th with Midnight Sun at The Fainting Goat as well.
What anyone can gather from watching HapyValy perform is their genuine friendship. They all exude the joy they feel from performing with one another and feed off of each other's energy in a contagious way. It's no surprise that even given their current distance from each other, they are carrying on as a band and finding time to come together to perform the music they love. There will be much more to see from them in the future, including more original songs on the horizon.
Breakaway
Breakaway is one of the newest teen bands on the Triangle's live music scene. They came together in August of this year, with many members having never performed live before. Their debut was at the Fainting Goat Open Mic on August 17th, featuring Lead Singer Sydney King, Guitarists Charlie Bird and Chris Papagianneris, Drummer Camden Murdryk, and Bassist Carter Murdryk.
Sydney explained the band's origin story: "Breakaway came from a previous band with another singer and keyboardist but that group kind of fell out, so I came in as the new singer." Chris said that he had known Sydney forever, so he contacted her and asked if she still sang and wanted to possibly be part of the band. When Breakaway played at the Fainting Goat for the first time they weren't officially a band yet, but after the performance went well they decided to stick together.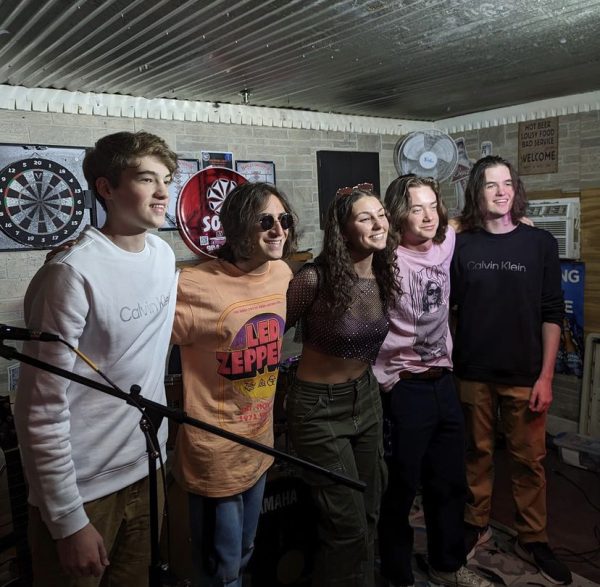 Charlie has been known to fill in on guitar for other local bands such as Midnight Sun, giving crowds a taste of his impressive skills. Local live music lovers are excited to see more of his skills in a group he can call his own. Charlie says that he plans to go on to college next year, but since becoming part of Breakaway, he's excited to see where it goes. "If something happens, it happens," he said in regards to the band's future success. 
They went on first at the Local Bar Teen Showcase, blowing attendees away with their talent right out of the gate. They set the bar high as the opener, with the fan favorite being their rendition of "Creep" by Radiohead. This was Breakaway's second-ever time performing, and fans can expect to see more from them again at The Fainting Goat on September 28th. 
Hazard
Hazard is another relatively new teen band in the area, formed in July of this year. The band consists of Lead Singer and Drummer JJ Payano, Lead Guitarist Sam Langhans, Bassist Eli Munger (who is also the Rhythm Guitarist for Midnight Sun), and Rhythm Guitarist Bryce Davis. The band plays mostly classic rock covers, impressing crowds with their perfect executions of complex songs.
What's most notable about Hazard is their resident Renaissance man: JJ Payano. JJ is just ten years old and is performing alongside musicians in high school and beyond. He's known and loved by many live music fans all over the community and is respected for his talents by all of the local teen bands. JJ lives, breathes, and eats drums, but he's also very talented at singing, guitar, harmonica, and more. What blows audiences away is the sight of this ten-year-old playing drums with perfect rhythm, while simultaneously singing perfectly on pitch. Everyone who knows him has bets placed on his future stardom.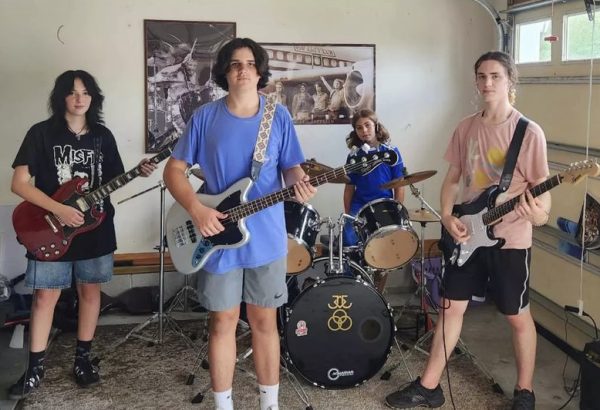 It's no surprise that JJ had a part in getting this band started. "We kind of just played together at the open mics at the Fainting Goat, with me, JJ, and Sam, and then later on we added Bryce. JJ named us Hazard, and we became a band after that," said Eli.
All members of the band are extremely talented, with Sam shredding her guitar into oblivion, and Eli and Bryce meticulously performing each note. The band can be found playing next at another teen showcase at the Fainting Goat on October 14th.
Stay Updated
Find the featured bands through their Instagram handles included below:
Midnight Sun: @theofficialmidnightsun
HapyValy: @hapyvalyband
Breakaway: @breakaway__band
Hazard: @hazard_rock_band
Closing
Many of these bands are friends, share members, and communicate through social media to ensure everyone has a support system showing up at each of their gigs. It's a wonderful and welcoming community, as well as a great crowd to get into whether you want to make money doing what you love, get better at your instrument, meet like-minded musicians, or just enjoy what you hear.
There are countless other local teen bands to keep your eye on, such as Taylor Sharp and The Sharpies (@taylorsharp_music), The Cherry Velvet (@thecherryvelvetband), Shy Away (@shy_away_band), and Twist to name a few. There is no shortage of teens keeping live music alive in our area, so keep on the lookout for where and when they'll be playing next. You're guaranteed to be astounded.