Track & Field off to a Running Start
The Green Level Track & Field team has officially begun their winter season. 
They competed in their first meet this past Friday, December 2nd at the JDL Fast Track in Winston-Salem, NC. Out of the 15 events scored, overall, the boy's team placed 3rd with a total of 63 points and the girl's team placed 8th with 38 points.
Individually, Green Level had many top competitors.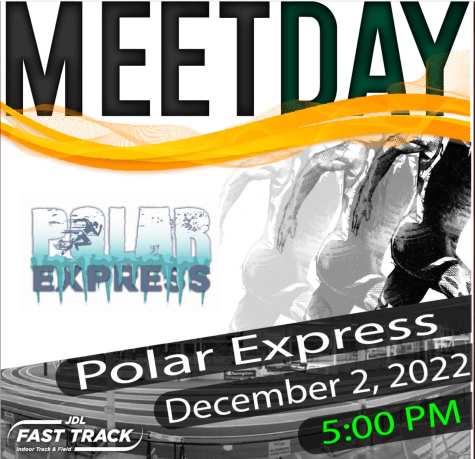 Alexa Nestor placed 1st in the 55 M hurdles with a time of 8.38, while also placing 1st in long jump with a distance of 17-09.00, and 5th in the 500 M run with a time of 1:25.22.
In the girls 55 M run, FR. Madison Moore placed 11th with a time of 7.96 and SOPH. Ava Falick placed 12th with a time of 8.01.
Competing in the 1000 M run SR. Rathi Seenivasan placed 6th with a time of 3:28.41 and in high jump JR. Wilma Hallsten placed 5th with a distance of 4-04.00.
On the boy's team, Samari Robinson placed 1st with a time of 6.69 in the 55 M run and SR. Ye Liu placed 7th with a time of 6.90.
In the 300 M run, Liu placed 4th with a time of 38.37 with FR. Darsh Gupta right behind placing 5th.
In the 500 M, JR. Jackson Spells placed 2nd with a time of 1:10.40, and in the 1000 M run, SR. Advaith Cheruvu placed 6th with a time of 2:55.05, SOPH. Jake Lominack placed 8th and right behind him JR. Ocean Yang placed 9th.
In shot put, JR. Rehan Nasir placed 1st with a distance of 38-03.00 and  SR. Andrew Su placed 8th with a distance of 29-10.25.
The boys also did very well in the relays they competed in, securing 2nd in the 4×800 with a time of 8:45.46, and 3rd in the 4×400 with a time of 3:43.73.
More stats can be located at RunnerSpace. 
Nestor just announced her verbal commitment to further her athletic and academic career at Kent State University in Ohio. She was one of 16 other athletes that advanced to the NCHSAA 4A Indoor State Championship Meet last year.
"I'm looking forward to making my senior season as fun and successful as it can be. I want to push myself and my teammates to leave their comfort zone and see what we are capable of on the track," says Nestor.
The Gators will continue their season by attending the SWAC Polar Bear meet hosted by the Cary Imps on December 7th and 8th with various events on each day. On Saturday, December 10th, the Gators will compete at the COROS Explore Perfection Invite meet. They have also registered to attend the Virginia Beach Relay meet to stride into the new year, on January 6th-7th. 
We wish them the best of luck as they prepare to compete throughout the next few weeks!