Wildfire in North Carolina
     On March 24, 2023, a wildfire started in North Carolina. The service said the "Last Resort" wildfire is burning on private and federal land near Columbia in Tyrrell County which is west of the Outer Banks, just south of the Albemarle Sound. As of 5 P.M. on Monday, the wildfire had spread across approximately 5200 acres and had reached about 45% containment by late Sunday afternoon.
     Fire mana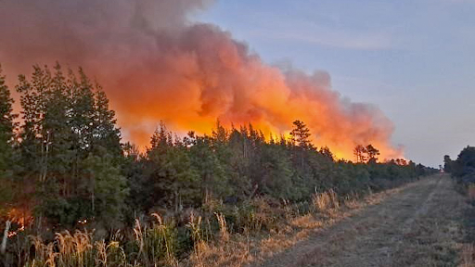 gers cautioned that the smoke may impair driving conditions in the area and people as far as North of Washington D.C. are complaining of the smoke smell. According to the latest update from the Forest Service, "the fire is 45% contained and continues to produce a 'significant' amount of drifting smoke. Officials said that the cause of the fire was a debris burn that escaped containment." Many people in the Outer Banks area are surrounded by "hazy skies" and the "smell of smoke" which is hard to ignore and a problem for locals and tourists alike.
     Officials are saying that the smoke is starting to shift because of the wind blowing, and pushing to the west. No homes, businesses, or other structures are at risk and no one is injured, but the community is describing their environment as "It's almost like a barbecue smell but then you can tell it's not coming from a barbecue because no one is barbecuing around you." Some others say, "We have seen a lot of smoke. It's very obvious. The weekend, particularly, we had smoke in the area. You can occasionally smell it in the house, even." Seventy-fire firefighters have responded to the blaze. "Light rain temporarily moderated conditions late (Saturday) afternoon. Firefighting crews will continue efforts to improve containment lines and monitor conditions through the remainder of the operational period."
      They have continued to hold the fire to 5,200 acres in size, but the smoke is rapidly spreading. An update from Mar 25, 2023, says this wildfire has grown to be estimated at 5800 acres and 0% contained at 4 P.M. March 26th, operational resources working the fire, including 75 personnel, expect to take command of the fire. The public is told to keep calm and expect to see and smell smoke for miles, but no matter the curiosity, keep drones away from the fire, as it's a threat to the pilot and interferes with firefighting efforts.