Women's tennis season comes to an end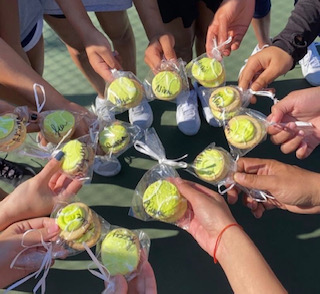 The Gators finish their tennis season closer to winning the championship than they were last year. They were only defeated by 2 schools- Green Hope and Panther Creek. Although the overall score was similar to last year, with a closer look we can see the team's improvement.
                           2019-20:                 2020-21:
GL vs. GH:            0-9                           3-6
GL vs. PC:            1-8                   First game: 3-6, Second game: 4-5
As seen with the game scores, the ladies have significantly improved and are building up to an undefeated season. One of the players- Sania Musti, a sophomore from Green Level who has been with the team since last year, shares her opinion on this year's season, "Our team has definitely improved a lot, which is shown through the comparison of the game scores between last season and this season. In addition to the very talented new freshman that came this year, the players from last year also improved tremendously. I predict a very bright future for the Green Level Women's Tennis team and I can't wait for us to keep improving and building on our game."
Musti, along with 6 other teammates, have now been selected to play 2 doubles and 2 singles for the tri-8 championship this week. Support your lady Gators at Cary Tennis Park on May 31st!