The Storming of Al-Aqsa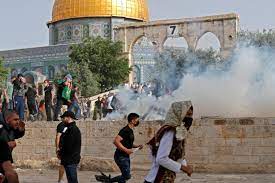 As the ongoing conflict between Israel and Palestine prevails, the recent storming of Al-Aqsa increases tensions. The Al-Aqsa mosque compound in Jerusalem is the third holiest site in Islam built on top of the Temple Mount. It's known as the qibla (direction) that Muslims face for prayer after they turned towards Al-Aqsa following the migration to Medina in 624. It has since held historical significance in the religion. Due to its location in Palestine, however, it has symbolically been involved in the tension between Palestine and Israel. 
On April 15, 2022, at 6:30 AM (during morning prayers), a group of Palestinian kids threw rocks at a gate where the Israeli police force was stationed. There were already pre-existing tensions in the area after the recent deadly raid on the occupied West Bank. When the rocks were thrown, the Israeli police in full riot gear started to fire rubber bullets and stun grenades at the crowd. A group of Palestinian reporters with their hands up who were loudly identifying themselves as part of the press were also hit by the rubber bullets. A fire also started in the area after fireworks were being thrown at the police. 
Although the bullets were made out of rubber, they had a metal core. They, therefore, had the power to disable and even kill.  Once the violence subsided, there were 150 Palestinians, including children, who were injured. At least 5 were in critical condition. Hospitals were overwhelmed by the number of patients coming in for treatment. The flow of incoming patients continued until 11:30 AM. Although there were no deaths from the incident, it was a big wake-up call for many on the intensity of the Israeli-Palestinian conflict.