Is Whiskey an Anti-Feminist Character?: A Glass Onion Review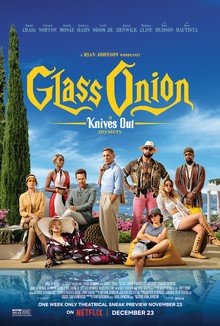 On December 23, Netflix released Glass Onion, the sequel to Knives Out. 
The story centers on eccentric billionaire Miles, who hosts a murder mystery game for a select group of friends at his island property (called the Glass Onion). While receiving overall good reviews about the plot and star-studded cast, Netflix has received some criticism in regard to one of the characters, Whiskey, played by Madeline Cline. Whiskey, when she is first introduced to the audience, comes off as a female misogynist, especially when she is around Duke, who is reminiscent of Andrew Tate: a misogynist that relies on an "alpha-male" mentality to create subpar content in his room that is harmful to adolescent boys. 
Whiskey's character receives about as much backstory as the rest of the supporting cast. She attempts to establish her brand, as the audience discovers via a conversation with Helen. Although Whiskey has controversial traits, she is depicted as one of the most intelligent characters in the film. Due to her past interactions with Miles and Duke, she ultimately finds herself seducing Miles in an effort to secure Duke a position on Alpha News. 
However, do Whiskey's efforts to progress her career come off as anti-feminist writing? While the writers do attempt to give Whiskey more of a backstory and give her motivations and ambitions for her to accomplish by her own merit, it has been criticized as coming off as "straw feminism"– her actions and personality are polarizing, but it was only done to juxtapose Duke's perception of her and how she perceives herself. There are some redeeming qualities about her character arc, such as how she uses her relationship with Duke to progress her career and establish her brand, but again, Netflix has been criticized as many watchers saw her primary purpose of being in the movie as being sexualized to progress the plot. 
Our perception of her as a vapid trophy girlfriend is false, just like with all Knives Out characters. As you watch Glass Onion you'll be forced to consider how you could have miscalculated and underestimated Whiskey as the puzzle pieces come together.