Popocatépetl Volcano May Erupt, This Is What We Know So Far
Popocatépetl is an active stratovolcano located in the states of Puebla, Morelos, and Mexico. Popocatépetl is one of the most active volcanoes in Mexico and the most famous having had more than 15 major eruptions. Recently it was spewing smoke and ash and this is what we know so far. 
Starting Monday it was seen spewing ash and caught the attention of the Mexican government who raised its alert level to "yellow phase three". It resulted in schools closing and being held virtually. Civilians were told to be ready to evacuate on a moment's notice. Due to Popocatépetl spewing ash to fall from the sky, it led to two airports in Mexico City to close temporarily. Benito Juarez Airport was closed at 4:25 local time and resumed operations at 10:00. Felipe Angeles airport was around 6:00 and operation resumed 5 hours later. 
Puebla state officials said "that the state of Puebla had set up 35 shelters with space for up to 22,000 people if evacuations were needed." They also said "to minimize the risk of exposure to falling ash, several public parks in the area would be closed and schools would hold classes virtually for the time being."
As more ash is being produced from Popocatépetl. The military has stepped him to help.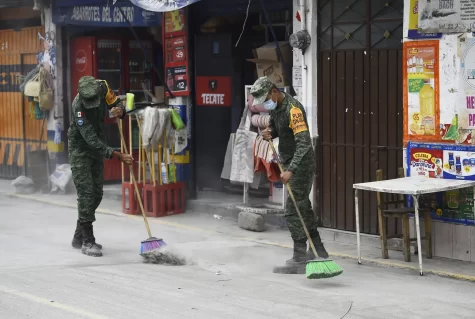 So far Popocatépetl has yet to actually erupt but plans are prepared for evaluation if needed. So far it has been continuing to spread ash and smoke.