Why You Should Subscribe to the Gators Eye Youtube Channel!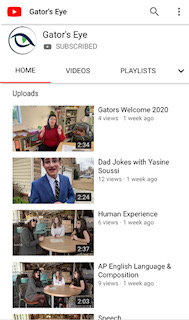 A. Rudolph, Student Life Section Editor
March 5, 2020
As many of you know, The Gator's Eye has just recently opened a YouTube Channel! On our channel we will be featuring exclusive content that you will definitely not want to miss. There will be all kinds of videos from the English Department course registration information videos to the Breaking News on the Gator's Eye comedy recurring feature. Even though most of these videos can be located on The Gator's Eye, we might post something exclusively for YouTube so make sure to subscribe! 
Milla Grabowski, the Gator's Eye's Editor-in-Chief, said, "I think people have seen a lot of our articles, but videos are things that are more fun to make and watch and I think students will enjoy watching them." The Gator's Eye is using YouTube as a way to expand our content and make it more interesting. Our job on The GE is to keep students informed, but also to give people a way to express themselves and represent our school. Ms. Nation, the teacher that helps us run The Gator's Eye, said, "You should [subscribe to the channel] because it's great! It has fun and funny content and it will keep you in the loop about what's going on at our school. Plus, it features me!" 
But how can you subscribe to our amazing channel? All you have to do is go onto youtube.com and search up the channel thegator'seye (no caps, all one word). Click on the account that has the Green Level Gator's Eye symbol, and then click that big red button to join our supporters!
Now, go ahead right now and stay informed with The Gator's Eye's latest content!