Andrew Cuomo, New York Governor, Accused of Sexual Harassment
The governor of New York has been accused of sexual harassment by six women, four of them being his former aides. 
The most recent allegation came from an anonymous aide who accused Cuomo of luring her to his private residence and groping her. She said the governor asked her for assistance with a technical problem on the second floor, closed the door, reached under her blouse, and began touching her. 
Andrew Cuomo has denied this women's story and denied ever touching anyone inappropriately.
Lindsay Boylan, former aide: "He kissed me on the lips"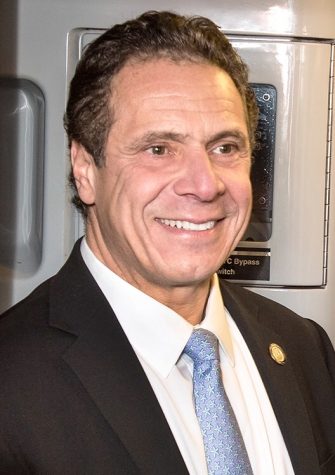 According to Newsweek, the first allegation came from Lindsay Boylan, Cuomo's former aide. She said that Cuomo "created a culture within his administration where sexual harassment and bullying is so pervasive that it is not only condoned but expected." She said that the governor had a crush on her and began referring to her as "Lisa" (who was rumored to be his former girlfriend) in front of colleagues. Ms. Boylan said the governor would go "out of his way to touch me on my lower back, arms, and legs." She said he suggested that they play strip poker on a plane back from an event in Western New York. And after a one-on-one meeting in his Manhattan office, "As I got up to leave and walk toward an open door, he stepped in front of me and kissed me on the lips."
I asked Green Level student, Sanjana Munigala, how she felt about Cuomo's sexual harassment allegations. She replied that "she was really not surprised", and that Cuomo and the government are probably working to cover up the sexual harassment allegations like they covered up previous allegations. Sanjana said that Cuomo should be "suspended from his work until the impeachment investigation is over, or removed from his position altogether."
Charlotte Bennett, former aide: "I understood that the governor wanted to sleep with me"
Charlotte Bennett was the second aide to accuse Cuomo of sexual misconduct. She said that their relationship began as him being her mentor, but over time it began to change. When she mentioned she was a sexual assault survivor, he seemed to be overly fixated on that. She said he looked her directly in the eye and repeated, "You were raped and abused and attacked and assaulted and betrayed" over and over again. She says that she now understands that he was grooming her. On a second occasion, she was summoned to his office and he said that he wanted a girlfriend. He asked her if she had sex with older men. He said he was ok being with anyone over the age of 22 when he knew she was 25.
Ms. Bennet tried to change the topic and talked about a tattoo she was considering getting. Mr. Cuomo suggested that she get it on her buttocks so it would not be seen when she was wearing a dress. Ms. Bennet was shaken and met with Mr. Cuomo's chief of staff, who was apologetic and moved her to a different part of the Capitol. But Ms. Bennet left the state government this fall, saying that "she couldn't handle it."
The third allegation came from a woman named Anna Ruch, 33, who met Cuomo at a wedding. Within moments, he put his hand on her bare lower back. When she removed his hand, he said she was being aggressive. He put his hands on her cheeks and asked to kiss her. Ms. Ruch pulled away while the governor drew closer, and he ended up kissing her on the cheek
Ana Liss, a former aide of Cuomo's says that she is not claiming sexual harassment, but says that the governor asked if she had a boyfriend, kissed her hand, called her sweetheart, and touched her lower back at a reception.
Karen Hinton, Mr. Cuomo's former aide, said that the governor started to ask her personal questions, and pulled her into an "intimate embrace" when she turned to leave. She said it was "not just a hug" and that she felt uncomfortable. 
Cuomo has issued somewhat of an apology, saying "I'm sorry for whatever pain I caused anyone. I never intended it, and I will be the better for this experience."
However, he says that "there is no way [he] will resign."