Committed: Cam Chatmon to Randolph-Macon
Cam Chatmon has committed to continue his academic and athletic journey at Randolph-Macon College. Cam played many different positions for the Green Level football team, playing Running Back, Cornerback, Safety, and Special Teams. He racked up over 1,000 yards in total offense his final season, and was recognized as an all-conference caliber player. He was also a leader, being the captain for the 3 years he was here at Green Level. What a high school career!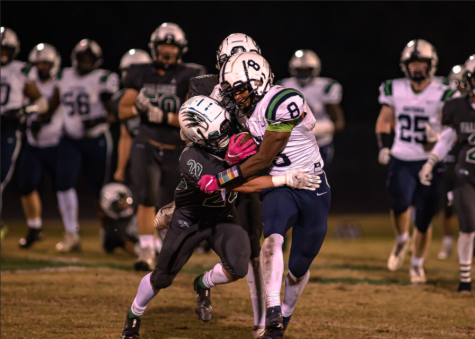 Randolph-Macon is in Ashland, Virginia, around three hours north of Cary.
Cam described his recruitment process to me…  "The recruitment process for me was a bit weird. I was trying to communicate with coaches to see where I was on their board. Sometimes they would talk to you, or talk to you and then ghost you. I just had to be patient, and wait to see who wanted me. After that, I talked to those coaches, and went to visits for those schools."
In regards to what made Randolph-Macon stand out, Cam said "Once I visited Randolph-Macon, I knew I really liked the school. I talked to coaches and met some of the players. The atmosphere and the culture of the school is why I committed there.
Now that Cam is committed, he says "It as a relief. I don't have to stress out anymore on where I am going. I don't have to spend money on visits, traveling, and whatnot. I know where I am going now."
Best of luck Cam, I know you will do great things at Randolph-Macon both on and off the field!