After 9-years Amanda Bynes Has Been Released from Her Conservatorship
After nearly a decade, star of movies like She's the Man and What a Girl Wants, Amanda Bynes has finally been released from her conservatorship after it was said that "grounds for establishment of a conservatorship of the person no longer exist."
A conservatorship, under U.S. law, is the appointment of a guardian by a judge to manage the financial affairs and/or daily life of another person due to old age or physical or mental limitations. There are many different types and lengths of a conservatorship, but they're very often seen or used in the lives of former child stars, such as Britney Spears.
Bynes began acting at the age of 7, starting in commercials and going on to act in the Nickelodeon original All That. She became a popular addition to the show, earning her own spin-off The Amanda Show, which ran from 1999 to 2002. As a teenager Bynes went on to star in many popular 2000s movies such as Big Fat Liar, What a Girl Wants, She's the Man, and Hairspray. Her career was going well, with the release of her movie Easy A coming out soon, though before the movie was released, Bynes announced her hiatus from acting. 
Over the next few years, Bynes publicly struggled with her mental health and showed signs of concerning behavior. In 2012 she was arrested for driving under the influence, and the following year was charged with reckless endangerment and marijuana possession. After allegedly lighting a fire in the driveway of a stranger's house in July 2013, Bynes was detained and involuntarily hospitalized, and taken in for a mental health evaluation. 
While that was happening, Amanda's parents began to petition to put her under a conservatorship and the following month, Amanda's mom was granted a temporary conservatorship over her daughter's financial and personal affairs.
A year later in October, Bynes began to spark worry again when she accused her dad of emotional and sexual abuse in a series of tweets. Even though the issue was denied by her parents and Amanda herself, she ended up tweeting that "The microchip in my brain made me say those things but he's the one that ordered them to microchip me."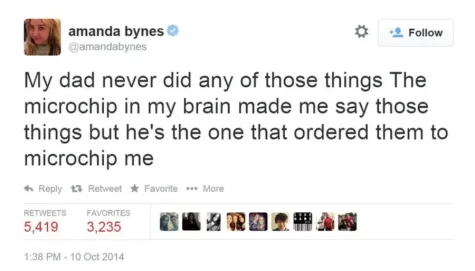 After this instance, Amanda's mom became her conservator again, and shortly after Bynes was diagnosed with bipolar disorder. 
Later in 2018, while apologizing for what she had previously said on social media, Amanda revealed that she had been sober for four years now. She admitted that she had played around with cocaine and MDMA before getting sober and that she had abused the Adderall prescribed to her the most. 
At the time Bynes said, "Those days of experimenting [with substances] are long over. I'm not sad about it and I don't miss it because I really feel ashamed of how those substances made me act. When I was off of them, I was completely back to normal and immediately realized what I had done — it was like an alien had literally invaded my body. That is such a strange feeling."
She also said, "I'm really ashamed and embarrassed with the things I said. I can't turn back time but if I could, I would. And I'm so sorry to whoever I hurt and whoever I lied about because it truly eats away at me," 
Bynes' conservatorship allowed for control over her person and estate but not her assets and in August of that year, legal paperwork to extend her conservatorship to August 2020 was filed. 
After being released from her 9-year conservatorship on March 22, in a statement made to People, Bynes said "Following today's decision by the judge to terminate my conservatorship, I would like to thank my fans for their love and well wishes during this time. I would also like to thank my lawyer and my parents for their support over the last nine years." 
She concluded her statement by saying, "In the last several years, I have been working hard to improve my health so that I can live and work independently, and I will continue to prioritize my well-being in this next chapter. I am excited about my upcoming endeavors — including my fragrance line — and look forward to sharing more when I can."