Johnny Depp-Amber Heard Verdict
Johnny Depp won his defamation case against his ex-wife, Amber Heard, on Wednesday. The jury awarded him a total of $15 million in damages.
*This article contains sensitive subject matters and foul language*
$10 million of the money was for compensatory damages, and the remaining $5 million in punitive damages. The jury also awarded Heard $2 million in compensatory damages.
Johnny Depp originally sued Heard for $50 million after she wrote an op-ed for The Washington Post in 2018. She referred to herself as a "public figure representing domestic abuse." She countersued for $100 million.
Depp and Heard each testified twice. The jury also listened to extensive recordings that attorneys claimed showed aggressive conduct and viewed text conversations between Depp and fellow actor Paul Bettany, which detailed substance abuse and featured vulgar language.
Heard's sister claimed that she saw Depp attack her, and a friend testified that he saw her bruises and wounds.
Supermodel Kate Moss also made an appearance via video connection, adding to the spectacle as TV cameras in the courtroom filmed every twist for an increasingly rapt audience as fans weighed in on social media and queued overnight for valuable courtroom seats.
On Friday, closing arguments were presented. By the time the court adjourned for lunch, jurors had heard from counsel for both Depp and Heard, who had a combined 45 minutes later Friday afternoon to offer rebuttal closings. Later that day, the case was sent to the jury, bringing to a close six weeks of courtroom drama that revealed the stars' unhappy marriage.
The jury was asked to evaluate whether there was abuse and whether Heard's op-ed essay was legally defamatory. The article itself focuses mainly on domestic violence policy issues. Still, Depp's lawyer points to two paragraphs in the piece, and an online headline that they believe are relevant in the argument that they defamed Depp.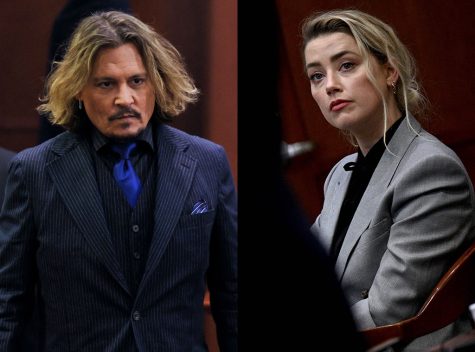 Depp's Testimony
Depp was the first to testify, swearing that Heard's "heinous" allegations of abuse against him forced him into court to show people that the claims were "not based in any species of truth."
"Never did I, myself, reach the point of striking Ms. Heard in any way, nor have I ever struck any woman in my life," Depp said.
He admitted abusing alcohol and drugs, and he sometimes referred to his intoxication as the "monster" however, he also claimed that Heard had "grossly embellished" his acknowledged substance abuse.
Depp told the jurors that his former wife verbally berated him and would sometimes "strike out" at him. Jurors were shown a photo of Depp with a bruise on his face and a second with scratches.
"If I stayed to argue, eventually, I was sure it was going to escalate into violence, and oftentimes it did," Depp testified.
Depp denied allegations that he abused Heard both of the times that he took the stand,
"I have never in my life committed sexual battery, physical abuse, all these outlandish, outrageous stories of me committing these things," he stated as a rebuttal witness. And living with it for six years and waiting to be able to bring the truth out."
Heard's Testimony
Heard's attorneys maintained that Depp's abuse of alcohol and drugs and his unreliability cost him his career, precisely his chance to reprise his role as Jack Sparrow in a planned sixth film in Disney's Pirates of the Caribbean franchise.
Under two days of direct examination, Heard said she had felt like "the most beautiful person in the whole world" at the start of their relationship. But she claimed Depp regularly hit her and sometimes feared for her life. Jurors were shown emails from Depp to his friend Paul Bettany that described a desire to hurt her. "Let's drown her before we burn her" and "I will fuck her burnt corpse afterward to make sure she is dead," he wrote in one.
Depp claimed the messages were taken out of context and partly drawn from Monty Python sketches' histrionics.
Heard denied Depp's claim that she threw a vodka bottle in Australia that severed the top of Depp's middle finger.
Amber Heard testified that she knew she should have left Johnny Depp the first time he hit her, but she couldn't do it., "I knew I couldn't just forgive him, right, because that means it will happen again. Like, I've seen the health class videos," Heard told the court through tears as she took the stand in Depp's libel lawsuit against her. "I was heartbroken."
Conclusion
Less than an hour after Depp won the case, he made a statement and said, "the jury gave me my life back."