Johnny Depp's Defamation Suit: Everything You Need to Know
Johnny Depp took the stand in his 50 million dollar defamation suit against his ex-wife, Amber Heard. 
*This article contains foul language and mentions drug and domestic abuse.*
"Aquaman" star Amber Heard filed for divorce from Johnny Depp in May 2016, after only two years of marriage. She has consistently claimed that Depp physically attacked her, brought his alleged drug addiction, and branded him a "lunatic."
In 2018, Amber Heard wrote in an op-ed about her situation in which she claimed to be a victim of "sexual violence." Depp's name was not stated in writing, but as their relationship was public, he claims it referenced him. The allegations ruined his career, damaged his reputation, and cost him millions of dollars. 
But now, along with the denial of ever abusing Heard came allegations that the situation was reversed–Heard abusing Depp. The lengthy trial has been looking into all sides of this messy relationship, uncovering truths and lies about the abuse between the pair. 
Bathroom Door Incident 
There's a long history of complex behavior that was discussed within the trial, one being the "bathroom door incident." Depp can be heard in recordings talking about Heard "kicking the bathroom door and hitting me in the skull."
Heard's response to these was, "I was upset I was on an Ambien; there was a lot going on."
In another section of the recording, Depp talks about how he went to "at least five bathrooms and two bedrooms" in the Australia incident. 
An angry Heard responds: 'You escape the solution. We cannot work it out if you run away to the bathroom!'
Depp says: "A boxer can't go 12 rounds without a break."
Later in the argument, Depp complained that Heard had thrown "f**king pots at me."
Heard said: 'That's different, just because I've thrown pots and pans does not mean you come knocking on the door."
Depp replies: "You seem to think there's this cowardice in me."
"
I thought she was injured so I knelt down to have a look. When I knelt down on my hands and knees to look at her foot, she kicked the bathroom door into my head.
— Johnny Depp
On the stand, Depp said: "What was just played was very much the tone and the aggression and the attitude and the need for a fight from Miss Heard. I don't know if that was some need for attention. That was the sound that I'd gotten very used to, the squabbling, the raising of the voice to excommunicate anything I had to say about the situation."
Recounting the argument that preceded the audio recordings, Depp said it happened in the penthouse in Los Angeles that he lived in with Heard.
He said: "She came banging on the door, I didn't answer. I was in the shower, I didn't want to deal with any more of that sarcastic, demeaning aggressive violent toxic spew." He continued, "She kept banging, I finally got out of the shower, I opened the bathroom door about that much (demonstrates small space with hands) so I could have a good hold on the door in case she tried to burst in. I was right, she did. She was pushing all her weight on the door trying to get in and I was pushing back, I didn't want to let her in."
"When it was almost closed she yelped in pain and screamed "Ow, my toes!", so in that second I thought possibly her foot had gotten caught under the door." He continued, "I thought she was injured so I knelt down to have a look. When I knelt down on my hands and knees to look at her foot, she kicked the bathroom door into my head."
"I was completely taken aback by such a corrosive, horrific move so I stood up. By this point the door was open and I stood up and said: "What the f**k was that?' Next move was bang, she clocked me in the jaw."
Broken Nose Incident 
At another point in the trial, Depp stood up and acted out a physical encounter where she claimed he broke her nose.
"I was going into my office. She just started throwing wild punches at the back of my head, the side of my head. Anything she could connect with. I tried to avoid the attack." At this point, Depp stood up and began to act the scene out.
"
Way to go Johnny, you broke my nose.
— Amber Heard
"I walked across the mezzanine, as I'm approaching the door suddenly I'm just getting clobbered from behind. The primal instinct is to duck and cover. I came up protecting my face but there are arms swinging wildly. I put my arms up and was able to get her into a bear hug just to stop her from hitting me anymore."
Heard accused Depp of headbutting her and said: "Way to go Johnny, you broke my nose."
Depp denied making a headbutt and said it was only "accidental contact."
Depp claimed that Heard showed him a bloody tissue, but he later checked it in the trash and "realized it was nail polish."
Severed Fingertip Incident 
According to The New York Post, Depp allegedly chopped off the tip of his own finger following a three-day bender. Furthermore, Heard said he was intoxicated and abused her many times throughout their vacation to Australia.
On Monday, Johnny Depp's doctor and nurse testified about the night Depp's fingertip was severed. However, both medical professionals said they did not witness the event firsthand. 
Debbie Lloyd, Depp's nurse, said she heard "different stories from people" after the incident.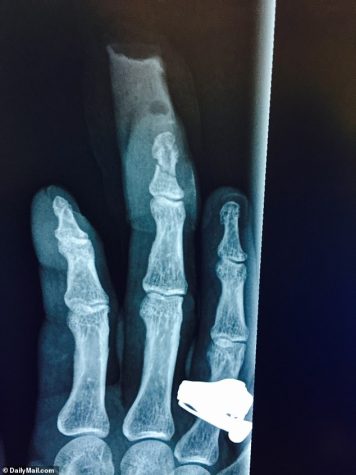 The lawsuit has reversed Amber Heard's claim in her essay, as it has alleged the reality that Heard physically abused him. In one situation, Heard allegedly chucked a bottle of vodka at him, shattering it as it came into contact with his hand and cut through the bone on his finger. 
Heard has countersued, denying Depp's claims and alleging he physically abused her on multiple occasions throughout their relationship.
Debbie Lloyd and Kipper, Depp's doctor and nurse stayed on an Australian island on March 7, 2015, the night before the finger amputation. They specialized in addiction issues and treated Depp for opioid addiction, which Kipper identified. According to court papers, Depp texted Kipper that night, saying, "I cut the top of my middle finger off. What should I do? Except of course go to a hospital." Another sentence read, "I'm so embarrassed for jumping into anything with her."
When Kipper treated Depp's wound and transported him to the hospital, he told his security officers to look for the remainder of his finger, which a chef discovered on the kitchen floor where Depp and Heard were fighting.
Depp Denies Abuse Allegations
The finger-cutting event was at the heart of Depp's case against The Sun, a British tabloid, which went to trial in the United Kingdom in 2020. According to the New York Post, Depp said that Heard became "berserk" when he mentioned having a prenuptial agreement. In the U.S. case, Depp and Heard submitted long lists of potential witnesses they may call, including Heard's ex-boyfriend, Tesla (TSLA.O) Chief Executive Elon Musk, and fellow actor James Franco.
Depp reportedly lost the lawsuit in the United Kingdom but continues to deny ever getting physically abusive with Heard.
"Never did I myself reach the point of striking Ms. Heard in any way," claimed Depp on Tuesday, "nor have I ever struck any woman in my life." He further explained his position the next day, arguing that "Violence was unnecessary. Why would you hit someone to make them agree with you? I don't think it works."
"My goal is the truth," Depp said. "One day you're Cinderella, and then in zero-point-six seconds, you're Quasimodo. I didn't deserve that, and neither did my children."
Depp publicly addressed the allegations in defense of his children, saying, "I felt it my responsibility to stand up not only for myself in that instance but stand up for my children." He continued, "I thought it was diabolical that my children would have to go to school and have their friends or people in the school approach them with the infamous People magazine cover with Ms. Heard with a dark bruise on their face…and then it kept multiplying, it kept getting bigger and bigger."
"
I thought it was diabolical that my children would have to go to school and have their friends or people in the school approach them with the infamous People magazine cover.
— Johnny Depp
Depp characterized himself as a "very private person," stating that testifying against her was difficult for him since it included a lot of exposure. He described how his life altered after appearing in "Pirates of the Caribbean," revealing stalkers attempted to clamber over fences around his property, including one dressed as Jack Sparrow, which elicited laughter from court attendance.
 Johnny Depp also spent nearly an hour in court telling about his childhood abuse and how his late mother, Betty Sue Palmer, routinely physically and verbally abused him. He discussed how his addiction began at the age of 11 when he would steal his mother's "nerve pills" and occasionally take one for himself. Depp's childhood revelations of drug use and abuse caused sniffles in the courtroom and tears in his admirers. Thousands watched him on Livestream and social media, sympathizing with the "broken man."
Attorneys representing Heard have contended that she spoke genuinely and protected her opinion by the First Amendment to the United States Constitution. In their opening statements, Heard's attorneys said that Depp abused her physically and sexually while abusing narcotics and alcohol. 
The cross-examination of Depp continues Thursday and will mark his third day on the stand. The trial will continue to advance until the judge makes their ruling.