VCT International League Starts
Valorant Champions Tour (VCT) is Riot Games' official esports competition for Valorant. On September 14, 2022. Riot games made a shift in the competitive scene which is referred to as franchising. Riot games made 3 internal leagues that consist of the Americas, EMEA, and Pacific. Each league will consist of ten teams in each league and will compete in their own international tournament for a spot in VCT Masters and VCT Champions later in the year.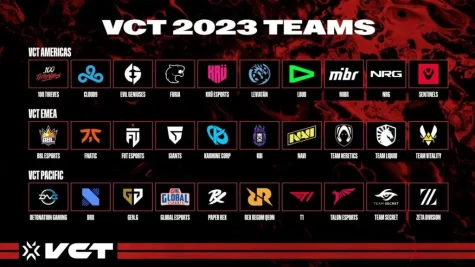 Riot games started the year off with VCT Lock/In located in São Paulo Brazil. The tournament had all 30 teams and 2 Chinese teams. The event started on February 13 and ended on March 4. After VCT Lock/In Riot games started the VCT International League. Instead of having all 30 teams compete in one tournament. The teams will compete in their own 10-team tournament in their league. 
On March 25, 2023, the Pacific league started its international tournament. On March 27, 2023, the EMEA league started its international tournament. On April 1st the Americas league will start their international tournament. 
Each League has its own promotional video.
Pacific

EMEA
Americas
There were matches played already in the Pacific and EMEA League but Americas has yet to start. Overall it will be exciting to watch the teams compete against each other in their own league.