"We Are One.": Green Level's Student Mural
A. Guo, Editor-in-Chief
September 10, 2021
If you ever walk past the library toward the second floor classrooms, you will pass by a mural of faces pieced together and the words "We Are One" written beside it. 
This colorful artwork was painted and created by art students themselves, with art teachers Mr. Mapp and Mrs. Klenow advising. The creator was Nithya Janapati, Class of 2022, who has done art her entire life, "I submitted my original design to the Congressional Art Competition through our school and won 2nd place at the district level." Janapati then recounts how Green Level High School Principal, Karen Summers, found her design and asked her to paint it as a mural.
From there, a team of artists were created from the Art Board, including Kendall Zinger, Lorraine Inman, Tanya Basak, Reese Barnett, Morgan Fazio, Carly Barello, Maren Molinaro, and Tess Marino. Throughout the summer, two to four people would take turns to work on the piece everyday. Janapati says they started by, "projecting a picture of the piece onto the wall and tracing it with chalk and markers to get a basic outline." Afterwards, they smoothened the wall with sandpaper, painted the mural with wall paint, and finished it with a protective top coat.
Though, the process itself was not as easy as it sounds, as Janapati describes the difficulty of the larger scale of the piece, "My original drawing was on a piece of paper, and this mural is on a WALL." Furthermore, she says it was her first time painting a realistic piece, as she typically uses color pencils but, "The support and teamwork of the other students and art teachers working on it made the process 100x less intimidating."
Janapati says her intention of the message is equality, "I wanted to show that everyone is the same regardless of skin color, so I figured out a way to quite literally portray that."
About the Contributor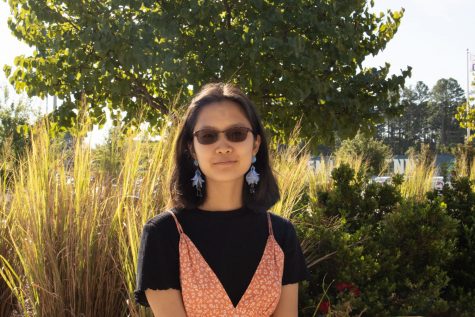 A. Guo, Editor-in-Chief
Aida is a senior who enjoys Miyazaki movies, spending time with loved ones, art, cooking, eating (all food but especially her mom's Chinese food), and...