New Mural: Celebrating NC Flora and Fauna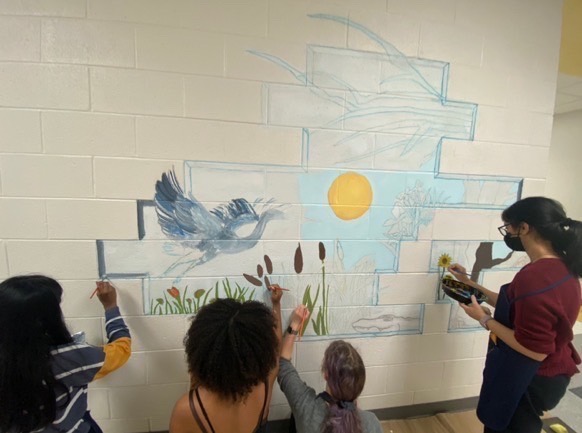 D. Khan , Student Life Section Editor
December 8, 2021
You can't walk into Green Level High School without stopping to admire the murals decorating the walls. The first floor has its giant masterpiece, the second floor holds a student-made show of unity, and even the football field celebrates victory with bright, colorful artwork. Now, on the third floor, a new addition to the artwork is on its way!
This mural was designed by junior Maren Molinaro. When Molinaro was brainstorming, she decided to bring some beautification to the school. To incorporate the beauty of the outside world into the brick wall, the mural would take the form of a cutout. From that idea arose the perfect theme: flora and fauna in North Carolina. To show this, the mural holds a variety of NC nature.  "We have cattails and venus fly traps, along with sunflowers, a dogwood, a gator, of course, and a blue heron," shares Molinaro.
The painting process has just begun, but the National Art Honor Society students are already hard at work after school on "mural Mondays." Ms. Klenow and Mr. Mapp are overseeing the process and helping the students learn how to work on the wall. They've done workshops, helped divide up the tasks, and will be watching over the students each week. Ms. Klenow, who's been pushing for the mural since August, loves the many beautiful plants and animals highlighted. "There are so many things to do and so many colors, and since our school is in the swamp, we can pull inspiration from around us," she says.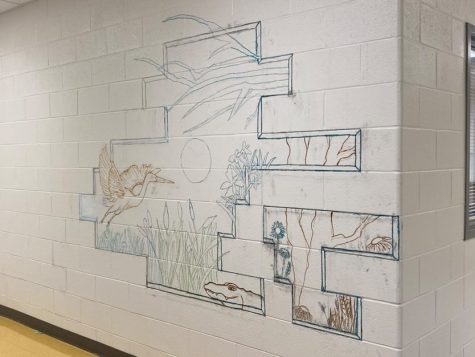 As of now, the mural could be complete around January or early February. The student's hard work and teacher's dedication show through every new addition to the art. Check out the progress on the third floor, right across from Ms. Delgado's classroom!