Men's Tennis Soon to be Back in Action
Now that February is here, spring sports are getting closer with spring sports tryouts being on February 14th. Apart of that is Green Level Men's Tennis! Last year the Men's Tennis team went 4-6, placing 5th in the conference. They're hoping to do better this season with multiple goals set in place.
I was able to talk to Mr. Cooper, who is the coach of the Men's Tennis team.
Here's what he hopes the team will accomplish this year:
"The goal is to win the conference and have a person not only qualify but win at States. We want to beat Green Hope and Panther Creek. Athletically, the goal is to get stronger and faster. Regarding student athletes the goal is to have the conference player of the year and establish a winning tradition."
With very high hopes for this season, Mr. Cooper also says "We would like to have more people attend matches to not only support but popularize the team." Make sure you get out there to support them at their matches this season!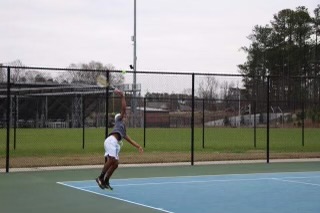 I was also able to talk with one of the players, Senior Anagh Sivadasan, and ask him a few questions in regards to the upcoming season. First I asked him about how he thought last season went and he said "Last season went alright, we had a lot more success than our first year but COVID really restricted the team from bonding and everyone having a fun time." As for this upcoming season though, he says "I have really high hopes for our team. We have more talent than we've ever had, and with space on the roster for 5 or 6 more players than last year, I'm confident this will be our best season yet. We have a great shot at winning the conference which I'm super excited about." Lastly, I asked what he was looking forward to this season. "I'm really looking forward to having a full, 18 person team this year, as opposed to the 12 we were limited to last year. I think that everybody is going to make huge strides in their skills, and we're going to see those results in the standing."
It's looking like the Men's Tennis team has a bright future this season and we need to make sure we support them along the way. Their first match is February 28 at Cary High School and I wish them the best of luck at this match and best of luck this season!
"
I have really high hopes for our team. We have more talent than we've ever had"
— Anagh Sivadasan