Men's Soccer Wins Crosstown Cup
This past Monday, September 12th, our Men's Soccer team competed against Cary High for the Crosstown Cup.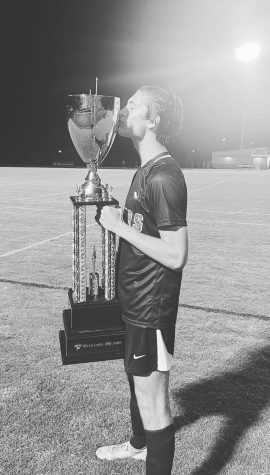 Sophomore, Stephen Cody got fouled in the box during the first half of the game. He stepped up and was able to secure the goal for the Gators, putting them ahead 1-0. They went into halftime hungry to score more, however mother nature was not on their side.
Three minutes into the second half, a lightning delay was in order. The Gators went inside to wait out the storm and further discuss their game plan. After several delays, the Gators were finally able to take the field again and finish what they started. They continued the game with the same energy that they started with and Senior Evan Mackowsky was able to secure their second goal of the match. Shortly after, Senior Max Willis brought the effort needed to score the Gator's third goal. Although the Gators were fighting hard, the Imps were still able to clinch two goals in the last twelve minutes of the game, one being a penalty kick. The ball was on the Gator's half for the final minutes of the game causing a lot of tension in the Gator's defensive half. Although it was close, the Gators were able to close out the game with a 3-2 win against the Imps. 
When asked about the game, Willis states, "I think we came out with a very positive mindset, we all know we wanted to win especially with the Crosstown Cup at stake…we handled Cary very well especially during the start but we kind of let off during the end, allowing two goals to be scored but other than that the cohesiveness of the time was really good and I think we just need to carry that on throughout the week and the rest of the season… If we keep that mindset and we also stay humble and we come out every night and work I don't see us going anywhere but the top."
The Gators are only a third of the way through their full week of games. On Wednesday, Sept. 14th, they will travel to Middle Creek and face off against the Mustangs. Then, on Saturday, they will play in the Wake County Cup Final against Apex at Home.
"We started out to a good start with conference play with a win against Friendship and we continued that last night against Cary, if we continue that form I don't see why we won't be SWAC Champions." – Max Willis, Senior