Show Out to the Swamp!
Men's Soccer Wake County Cup Championship: Green Level vs Apex
ATTENTION GOONIES!! Your Men's Soccer team needs you this weekend. On Saturday, the Green Level Gators will be facing off against the Apex Cougars, 7pm at the Swamp. This game will be for the Wake County Cup Championship, so come watch these guys bring home the hardware!!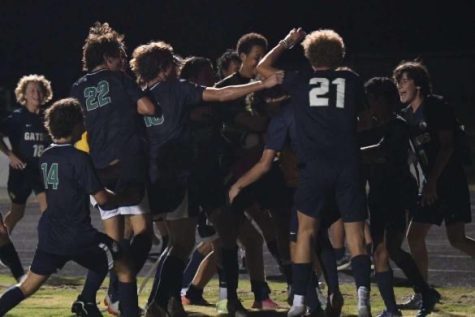 This will be one of the most competitive matches this season, as the Cougars recently defeated another top opponent in the SWAC, the Green Hope Falcons. The Cougars now stand 6th in the NC Division 4A East, 12th in North Carolina, and 56th nationally. 
We got the chance to catch up with Max Willis, a senior midfielder on the men's soccer team, and here's what he had to say:
Why is this game so important? This Saturday is a really big game for us, mainly because we are playing a "crosstown rival" but also because it's the Wake County Cup Championship. This is something we've been working towards since preseason, and this common goal is something that has really brought us together. Apex is a really tough team but we believe that we are  better in a lot of ways and have the talent to take them down.
What will be the hardest part about this match? Staying mentally strong and keeping our goal as a team. As long as we stay focused and have fun we will be fine. 
Do you have a message for the goonies? Whatever you're doing Saturday night, cancel it and come out to Green Level stadium field at 7pm. Jersey out, be there. 
You heard the man… pack the stands this Saturday at 7pm to support Green Level Men's Soccer.