Second Senior Night in School History: Gators Volleyball
Tonight, October 17th, is a big night for our Volleyball Team as we host our second-ever Senior Night in school history.
Last year, we had 6 seniors on the Varsity squad (Halle Gibson, Morgan Downs, Nicole Deoliveira, Khushi Shah, Lizzie Boggess, and Ava Toppin), and we have the same amount this season (Ella Park, Emerson Switzer, Katie Talley, Ellie Sampson, Olivia Hummel, and Jordynn Little). We look forward to seeing what the ceremony will be like and how the energy will be as the Goonies dress in all white for the matchup against Apex Friendship (White Out).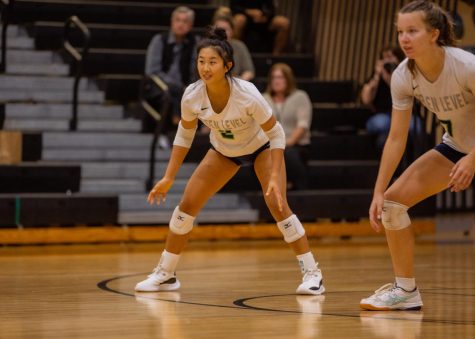 This season, we have 2 seniors who will be moving on to the collegiate level for volleyball. One is Ellie Sampson (2021 State Final MVP), who will be attending Stanford University, and Jordynn Little, who recently committed to Randolph-Macon College.
Going into the game, the Gators are 16-5 and are ranked 3rd in the SWAC (4th 4A East, 17th in NC), going against Apex Friendship (12-7, 4th in SWAC, 14th in 4A East), who they previously lost 3-1 to at the Patriots home court.
In an interview with Senior Emerson Switzer, she says, "I am feeling pretty comfortable with playing friendship tomorrow. We have improved a ton, and the energy of senior night will push us to win. Senior night is bittersweet but I know it's going to be super fun, I'm really excited!"
Senior Captain Olivia Hummel adds to the discussion by saying, "I feel good about going into our game against Friendship tomorrow. After our loss last week, we have really come together and worked hard during practice. We know for playoff seedings that we need to win this game and we are excited to redeem ourselves from the last time we played them. Since it's senior night and we're playing them at home, we hope to maintain the energy throughout the game."
We are excited to see this rematch tonight and are even more excited to see the rankings and match-ups be released for playoffs, as this is the last regular season game for volleyball. There is a lot of pressure on the team after previously winning the State Title, so the Gators are going to bring the energy, and we hope to see the support of everyone as we celebrate the senior squad and their amazing careers with the team.