Ba Dum Pssh!: Green Level Senior to be in the Macy's Thanksgiving Day Parade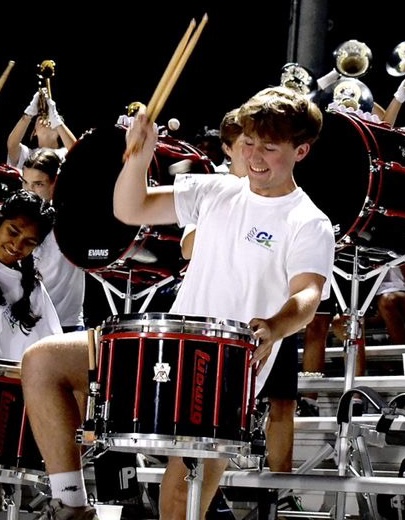 Every Thanksgiving, millions of Americans tune in to NBC to watch the Macy's Thanksgiving Day Parade in New York City to marvel at the extravagant floats and the elaborate performances throughout the morning. However, this year, one of Green Level's own gets to be in the parade through the All-American Band. 
Senior Aidan Beamish plays the drums for Green Level High School's Marching Band and has been playing since the 6th grade. We asked him a few questions to learn more about how he got this incredible opportunity:
What prior band experience do you have? I'm the drumline captain here at Green Level. I've been the captain for three years, starting my sophomore year. I'm a percussionist so in 6th grade I started and in 8th grade, I made the all-state band. When I made the all-state band I realized it was something I wanted to take more seriously. I wasn't supposed to come to Green Level, I was supposed to go to Cary but I transferred and it was really cool being a part of a new program my freshman year. I was in the front ensemble and played the timpani but as the band grew I knew I wanted to start a drumline. I was lucky enough to be chosen as the captain and I'm now doing things outside of Green Level. I'm auditioning for Drumcore so I'm really excited to further my music career. 
What made you want to participate? I saw another High School All American group in the parade and I saw that they were doing one this year. I'm a drummer and I really like music so it sounded like a great opportunity. 
What was the audition process like? I looked into it so I went and auditioned. It was a video audition back in January and then I found out I made it in April. Just last week I found out I made snare for the battery, so I'm super excited for that. 
Congratulations and good luck Aidan!