$500,000 Smash Bros. Tournament Gets Canceled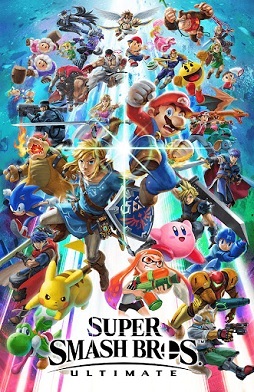 On November 29, 2022 Dexerto the Esports media group came out with a Tweet saying "Nindento shut down the biggest Super Smash Bros. tournament of the year".
"Without any warning, we received notice the night before Thanksgiving from Nintendo that we could no longer operate."

Nintendo shut down the biggest Super Smash Bros. tournament of the year pic.twitter.com/58sO362XHe

— Dexerto (@Dexerto) November 29, 2022
Smash World Tour
The Smash World Tour had the biggest prize of a quarter of a million dollars for Melee and for Ultimate. It was scheduled to happen in two weeks.
VGBootCamp is the leading Smash bros Org. that also hosts the Smash World Tour. They set up a circuit system where throughout the entire year, events will earn players points and points will get players an invite to the final event with a prize pool of a quarter of a million dollars and be the world champion of Melee or Ultimate. 
Panda Cup
However a month after the Smash World Tour was announced, there was another circuit World Tour that was also announced, the Panda Cup. The Panda Cup was created by Panda Global and run by Dr. Alan the CEO of Panda Global. However, the Panda Cup is officially licensed by Nintendo. 
The journey of North America's first officially licensed Super Smash Bros. circuit has all led up to this.

Introducing the Panda Cup Finale
Dec 15-18, 2022 pic.twitter.com/Yt4jRfBC8f

— Panda Cup (@PandaCup) September 29, 2022
The Licensing 
The Smash World Tour was submitted for review for licensing on April 9th, 2022. However, Nintendo has the right to decide who is allowed to broadcast or set up a tournament for their game and in the Smash community they just ran tournaments with no help from Nintendo and Nintendo didn't interfere. Recently Nintendo has been licensing events like the Panda Cup. This caused a bit of fear in events that weren't licensed. People weren't sure if the events would be canceled or continued.
In a Medium Post by the Leaders of VGBootCamp, they said they got into conversations with Nintendo as early as January 2022 to approve their event in December. They sent their proposal on April 9th but did not hear back on the proposal until seven and a half months later on the night before Thanksgiving. But Nintendo was quick to approve of the Panda Cup.
"They reminded us and reassured us that Nintendo is only looking to shut down IP infringement related to game mods, and not the unlicensed Smash World Tour. 

That the Panda CEO does not represent Nintendo, and that they would have to have a conversation with him about his behavior. 

They reminded us and reassured us that Panda's license is not exclusive and that they can see the two circuits co-existing. 

They reminded us that Nintendo's goal was not to gatekeep or trap the community, and thatlicense guidelines would be accessible and clear."
Alan Spreading Rumors
Both circuits had a similar points system and the Smash World Tour was alright with any event can be considered a Smash World Tour circuit and it doesn't matter if it is also a Panda Cup event. But Panda Cup said they wanted theirs to be exclusive and make every event that was a part of the Panda Cup not a part of the Smash World Tour. So Alan goes around to tournament organizers and says the Smash World Tour is not gonna be happening and it would be a mistake to work with them instead of a licensed event. Alan also made an indication that if they didn't work with Panda their event may get shut down. However many events declined Panda. Panda decided to change the rules a bit and agreed that if an event was also a part of the Smash World Tour then it can also be a part of the Panda Cup. 
Beyond The Summit
Beyond The Summit (BTS) is one of the largest streamers of Smash events. Panda saw they had the rights to stream those events and Panda wanted those rights too. "The CEO of Panda wanted broadcasting rights to be included as part of the deal of the events joining the Panda Cup". BTS didn't want to give up their rights for free and declined. Alan escalated things quickly making a variety of threats including shutting down their entire Smash operation in 2023 if they did not eventually join Panda Cup. BTS held firm and Alan warned they will get Nintendo directly involved, putting broadcast rights for all tournaments in jeopardy. BTS holds strong.
A Co-Founder of BTS came out with a tweet bringing what Alan is trying to do to light. 
Alan spent several months basically running a protection racket telling TOs including BTS "it'd be a shame if your event got shutdown for being unlicensed" in an effort to scare them into signing onto the Cup.

BTS will absolutely never participate in a circuit led by Alan. https://t.co/8NyqobpHkT

— LD (@LDeeep) November 29, 2022
Smash World Tour Gets Canceled
VGBootCamp wasn't able to reconvene with Nintendo until November. On November 23, 2022, they were denied the right to do the Smash World Tour. "Nintendo expects us to only operate with a commercial license, and that we would not be granted one for the upcoming Championships or any activity in 2023." In a last-ditch effort, VGBootCamp asked if they could do what they did similar to last year how they would run their own tournaments without Nintendo getting involved. Nintendo says those times are now over. 
Due to Alan saying Smash World Tour is going to get canceled many believed he may have pulled some strings to make it actually happen.
Nintendo Response 
Nintendo released a full statement about the Smash World Tour on ign.com. Shortly after Smash World Tour came out with their response to Nintendo's statement. 
A short response to Nintendo's official statement: https://t.co/Cr4xfE1U1U

— Smash World Tour 2022 (@SmashWorldTour) December 2, 2022
Shortly after Panda Global came out with their own Response
Panda Global Response 
— Panda (@PandaGlobal) December 5, 2022
The Backlash From The Community 
Many players and commentators decided to not attend the Panda Cup and leave Panda if they were working with Panda.
I won't be attending Panda Cup.

Too little, and way too late. https://t.co/902CEl9VQe

— hungrybox 🏆🏆🏆 (@LiquidHbox) December 2, 2022
I will no longer be attending Panda Cup. https://t.co/8IsGqUfpss

— Wizzrobe (@Wizzrobe) December 3, 2022
Not going to Panda Cup. There is no appropriately sized bag or contract commitment that is worth dealing with this organization. https://t.co/f3iJhxGCB4

— Josh Fendrick (@FendrickLamar) December 2, 2022
Talked about this on stream last night, but today I officially put in my resignation at Panda, effective 12/31. I'm still under contract for the Finale.

Panda offered me the opportunity to change my life and provide a future for my family, and for that I'm immensely grateful.

— CONEY (@CONEY) December 3, 2022
Yesterday, I submitted my letter of resignation to Panda leadership, effective 12/31.

The opportunities I was afforded there were formative, and I had the honor of working alongside dozens of intensely capable, creative folks.

I'm enthusiastic about figuring out what's next! 💫

— Josh / Jaaahsh (@Jaaahsh) December 3, 2022
I'm quitting panda.

I've truly enjoyed my time there, and they treated me well.
I know that, at a certain point, they had the community's best interests in mind. I just don't think I can support them anymore.

Now I must sleep for 1000 years in preparation for da next tournament

— Plub (@Panda_Plup) December 3, 2022
After a week of thought, I've come to the not so difficult decision to imminently become a free agent

I'm currently the #2 ranked SSBM player worldwide, and looking for a team and home to chase #1 with and especially to grow with through content

RTs appreciated, thank you <3

— Panda | iBDW (Cody Schwab) (@iBDWSSBM) December 3, 2022
Alan Is No Longer CEO
Panda Global came out with statement and within the statement. It mentions Alan is no longer their CEO. 
— Panda (@PandaGlobal) December 5, 2022
Not only is Alan no longer CEO they are also canceling the Panda Cup due to everyone not wanting to participate. 
Alan came out with his own tweet confirming he is no longer CEO and has a statement coming soon. 
I've stepped down as CEO of Panda to protect the safety and wellbeing of the team.

My statement (with evidence) is coming. pic.twitter.com/LkousPo183

— Panda | Dr Alan (@DrAlanB) December 5, 2022
However Alan's tweet only made more people want to quit.
I'm leaving Panda.

I'm really grateful for the all opportunities they have provided me with, and have met so many wonderful people there.

However, I do not agree with how they have responded to the current situation, and can no longer associate myself with their brand.

— Little Z (@LittleZ) December 5, 2022
I have come to the decision to leave @PandaGlobal I appreciate everything they've done to help me grow and i hope that the team can still move forward in the future without me! 1/2 cont….

— Panda | Punk (@PunkDaGod) December 5, 2022
Alan's Statement
Alan released a 31 page statement responding to Smash World Tour, BTS and specific tournament organizers. Alan makes many points and upon further research, those points aren't true. 
"SWT doesn't get shut down, VGBC gets their own circuit without the years of negotiation with Nintendo".
VGBootCamp did ask if they could run the tournament without a license but they got told by Nintendo that "those times are over.
"I've been recently informed that the main hotel in San Antonio listed in the SWT discord did not have any pre-existing block or any expectation of large groups this weekend. There was no block canceled, it simply never existed." 
A Tweet came out disproving this point.  
I don't know about the rest of statement's legitimacy, but to claim the event was never going to happen bc of no hotel block is ridiculous

People were given stipends/flights for the event prior to its cancellation + the TPC venue was booked that weekendhttps://t.co/hq3B17BkEv pic.twitter.com/4r2PqKZa4K

— DarkGenex (@DarkGenex) December 7, 2022
"In terms of having prior knowledge of SWTC 2022's shutdown: We MOVED our Finale, to the weekend before Christmas (a historically TERRIBLE date for travel and events) because SWT took our Finale date after we placed a hold for the date on the Smash calendar. We moved for them. If we really went to shut them down, knowing for sure that there would be no SWTC 2022, then why would we move to a worse date? It doesn't make sense."
Alan claims he had no knowledge of SWT getting canceled and if he did, it didn't make sense to change their Finale date. However many people came out saying they heard Alan say many times that the SWT is going to be canceled. 
When we first invited Alan to come to Summit and talk about the Panda Cup circuit in November 2021, the first thing out of his mouth was about how SWT was going to get shut down. Dozens of people heard it, and many can corroborate this.

— Ken Chen (@Hot_Bid) December 7, 2022
When we first invited Alan to come to Summit and talk about the Panda Cup circuit in November 2021, the first thing out of his mouth was about how SWT was going to get shut down. Dozens of people heard it, and many can corroborate this.

— Ken Chen (@Hot_Bid) December 7, 2022
I can corroborate that at Summit in November '21 I was verbatim told that SWT 'won't exist anymore' so being involved in both circuits was not something I'd have to worry about.

— Galint | Dhir (@reindhir) December 7, 2022
In the section to BTS he says he tried to talk to a worker of BTS, Ken Chen however things didn't go as smoothly. "I was doing my best to be cooperative, collaborative, and receptive to their feedback and thoughts. The response I got, unfortunately, was the exact opposite… It was a frustrating call, but I didn't give up and still wanted to figure out a way to work with them." He also revealed that Ken yelled at Alan. "I was met with more stonewalling. More obtuseness. More of Ken's yelling at me". This paints Ken in a light that shows him as a rude and despicable person to work with however this also doesn't seem true. 
Well respected tournament organizers Aaron and Sheridactyls claim Ken isn't like how Alan depicted him.  
Ken is one of the most sincere and honest people I know. He cares deeply for the smash community and it is really messed up to see him get libeled like this. https://t.co/ajBZxysq98

— Aaron (@dongusmaster9k) December 7, 2022
To add onto this, I'd like to cite a situation that happened between Genesis and BTS that @Hot_Bid could have completely thrashed us over privately and publicly but didn't really even get mad or remotely raise his voice at us, and kept us as a friend and future business partner https://t.co/8fvKtTGucg

— MIOM | DRZ#283 (@sheridactyls) December 7, 2022
But Alan's own company Panda Global doesn't go along with his story. In Panda's official statement says they "acknowledge and regret the interaction between Alan and BTS in which he spoke in a manner which did not reflect guidance from Nintendo or our own standard."
Not All Bad 
Alan may seem like the bad guy of this drama how there are people who did benefit from Alan's assistance. 
I wanted to say Big House this year wouldn't have been possible without Panda support. I personally had a good experience working with them to elevate our event. They made much of the decor/carpeting/signage possible and helped secure sponsorships while reducing overhead. (1/2)

— Robin Harn (@JuggleRob) December 7, 2022
Many people have left Panda but pro player Marss decided to still stay with Panda. Coney a famous commentator within the community who plans on leaving Panda didn't see Alan as greedy or manipulative. 
Looking at the replies to Alan's statement just dissuades me from posting anything intelligent about it. I have nothing to say to people like that. All that's worth mentioning is that I'm staying on Panda. Any concerned friends can DM

— 🍥 Marss (@Marss_NE) December 7, 2022
Panda got me in 2019, I was fulltime in 2020. In ~4 years I worked under Alan, he never gave me a reason to think him greedy or manipulative.

I truly don't know WHAT happened to get us to this point, its just awful to see the entire scene growing just to be pulled the fuck back.

— CONEY (@CONEY) December 7, 2022
Why did Alan do it?
Many people are still confused about why did Alan go around saying Smash World Tour is getting canceled? Why did he allegedly try to pull strings to get it canceled, why did he want streaming rights?
Well in his own Medium post "Every single competitive video game in the world that is the size of Smash has publisher regulations in order to do a major commercial activity, and that's a fact. Smash just never really had meaningful, major commercial activity in it. And that's part of the problem. Because if Smash never has that major commercial activity, then it'll never be able to sustain full-time careers for more than a handful of people. The community would continue to see the most passionate and the most talented people leave to pursue jobs where they can actually raise a family or make a long-term career. But the worry is that if Smash had publisher regulations and commercial licensing without proper community oversight, then we risk losing the identity of the Smash community, which wouldn't be worth it in the end… We'd take the red tape, the corporate limitations, the months and years of approvals… In exchange for the rest of the community having freedom." Alan in the Medium post also said when Panda Cup got licensed, he was able to sell 2 million dollars in sponsorships. He also says he didn't do this for the money and he just wanted to make Smash a game that people could live off of. 
It seems Alan tried to make his own Tournament and get licensed for it by Nintendo to create a revolution that makes Smash Bros. a game people can live off of. However, the way to try to create this revolution didn't work out. It seems he wanted tournaments to be licensed and exclusive to his own circuit point system for his tournament Panda Cup but many tournament organizers decided to not work with him. He told them that the Smash World Tour is going to be canceled to scare them into working with them. It is unknown if he had any information about it but it seems suspicious that he would go around talking about it. And soon he was right, the Smash World Tour was canceled and many people were quick to point fingers at Alan, but who can blame them? Alan was going around saying it was going to be canceled. Due to people disliking Alan for "canceling" the Smash Tour it gave Panda a bad reputation and many people withdrew from the Panda Cup and left Panda. Of course, there are still people who are staying with Panda regardless of what happened however Alan had to step down as CEO. This year it was supposed to end with 2 major tournaments, The Smash Tour and Panda Cup to none. However, one person saw the situation and decided to step in to help. 
Ludwig Scuffed Tournament
Famous Youtube Steamer, also originally a Smash Bros. player saw what was happening and decided to make a tournament to raise money for VGBootCamp.
Due to VGBootCamp having to cancel their event they also had to refund tickets and close down their event ect. and are bleeding money from doing it. Ludwig decided to help and raise money so VGBootCamp can return all the money to fans and players who were suppose to attend. h 
In light of Panda/Nintendos lackluster response I'm happy to announce

🎉The Scuffed World Tour🎉

A one day melee/ultimate event

Sunday 12/18

Featuring the 8 highest placing SWT competitors

All with the goal to raise money for VGBC

See you there 🙂

— ludwig (@LudwigAhgren) December 2, 2022