MLK Day Showcase Preview
On Monday, January 16th Green Level High School will host the inaugural Martin Luther King Day Basketball Showcase. The event will feature matchups between four of the top five teams in the 4-A east RPI rankings. Current rankings are No. 1 Apex Friendship, No. 2 Purnell Swett, No. 4 Cardinal Gibbons, and No. 5 Panther Creek. We got the chance to ask Green Level head coach Ben Woolf about the event. When we asked what this event means for his team he stated, "It is a great opportunity to showcase our school and our student-athletes at our school. When talking about just our girl's basketball program, it allows them to showcase their skills to more than our normal fan base." We later asked how teams were selected for the event and he told us, "We were looking for playoff teams from last year and match them up the best way possible."
The lineup for the day is as follows:
12:00 Jordan vs. Green Level
2:00 Cardinal Gibbons vs. Garner
4:00 Purnell Swett vs. Apex Friendship
6:00 Millbrook vs. Panther Creek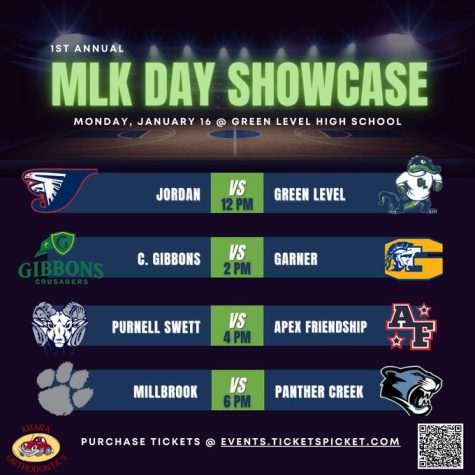 In the first matchup of the day your Green Level Gators will take on their former conference opponent the Jordan Falcons. Key players to watch are Green Level's Audrey Ericksen and Jordan's Sydney Barker. Ericksen is a Boston University commit and is leading the Green Level scoring attack this year averaging 13.1 points per game. On the other side, Jordan point guard Barker has been unstoppable with the ball in her hands this year averaging 25.7 points per game, which is the highest of any player in the showcase.
I had a chance to talk with Head Coach Ben Woolf about the matchup against Jordan in the showcase. Coach Woolf was asked what his scouting has revealed about the challenges Jordan will present. Coach Woolf noted, "We have a couple of films on Jordan and we will break them down on Saturday after our games. They have a really good point guard who can score and distribute the ball very well."
It's important to note that Coach Woolf and the Gators have made an effort to play a very tough non-conference schedule (only two teams with losing records). I asked Coach Woolf if he feels that helped prepare the team for tough conference play and how an event like this fits in. Coach Woolf responded, "We hope so. It makes our schedule better by making it harder in a good way." The Gators are coming in hot with a better record than the Falcons and are looking to keep it that way.
In the second matchup of the day, Cardinal Gibbons will take on Garner. Cardinal Gibbons is looking to walk into Green Level High School and leave with an easy win as Garner is several games below .500 while Gibbons is sitting as the No. 4 team in the NC 4-A east rankings. Cardinal Gibbons is led by a scoring duo of Junior Isa Roman and Senior Ava Palmgren who both are averaging double digits in points and are also both shooting over 40% from the field. Garner comes in with a strong scorer of their own with Junior Tamia Darden averaging north of 15 points per game this year. Finally, Garner also features an elite defender in Junior Olivia Jacobs who averages 1.5 steals per game. Cardinal Gibbons definitely will come into MLK Day as a strong favorite, but Garner has major firepower they can use to upset the Crusaders.
The 4:00 game could be a playoff matchup preview with Purnell Swett facing off against Apex Friendship. Purnell Swett has one of the top seniors in the state in Kylie Chavis running their offense, scoring 23 points and dishing out 7 assists per game. Chavis also gets it done on the defensive end grabbing 11.6 rebounds, averaging 5 steals and almost 1 block per game. Apex Friendship has one of the youngest stars in the state running their offense with Sophomore Jasmine Nivar averaging 18.9 points per game and also grabbing 7.1 rebounds per game. This matchup will be a battle of two stars who look to lead their teams to victory on Monday.
The final, and possibly the most star-studded game of the MLK Day Showcase is between Millbrook and Panther Creek at 6:00 pm. Panther Creek is coming in confident as the last time they played at Green Level they came away with a 32-point victory. Panther Creek has talent at every level on the court. Junior point guard Taylor Barner is averaging 18.3 points per game with Olivia Tucker and Wake Forest commit Madisyn Jordan at her sides each averaging double digits. Panther Creek's senior forward Amira Ofunniyin is a defensive presence and also averages 8 rebounds per game. On the other side of the ball, Millbrook comes in undefeated in conference play and a 10-5 overall record with their own star in 6-foot senior guard Reychel Douglas who averages 17.9 points and pulls down 8.6 rebounds per game. As one of the top players in 4-A basketball, Douglas is going to try to use her size to shut down Panther Creek's deadly scorer in Taylor Barner and hope to slow down the Panther Creek attack. Although Panther Creek has a loaded lineup coming into the MLK Day Showcase, Millbrook's size and defensive ability could allow them to sneak out with a victory if they can contain the Catamount stars.
Monday's event will be an exciting, star-studded experience and will kick off with your Green Level Gators. Come and support us at 12:00 pm on Monday and stay for the fun!