Biggest Win in School History
Green Level basketball played a game this past Friday against Panther Creek. Over our school's short 4 year history we have never been able to beat Panther Creek in basketball. Panther Creek notoriously has had a good basketball team over the last few years and every time we see them on our schedule the excitement levels rise for the team and the school community about the game. However, falling short always leaves a lasting impact on people, and we had fallen short up until this Friday…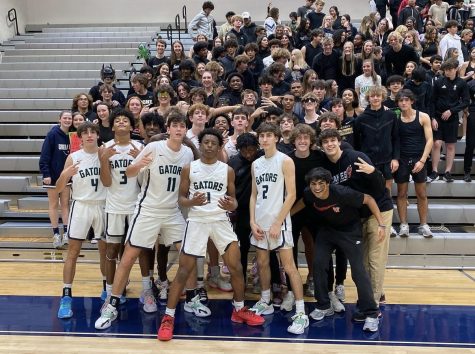 So, as you might expect anticipation and excitement buzzed throughout the school community the day of the game Friday, January 6th. Tip-off set for 8 pm, students, staff, and parents from both schools flood in the doors for the last game of the 4 basketball games played by the gators at home on Friday. Student sections stared at each other across the gym with tension growing before the game had even started. 
In the first quarter the Gators set the tone of the game quickly and dictated on both ends of the court giving them an early lead. The catamounts clawed their way back throughout the second quarter cutting the Gators lead to merely 2 when the halftime buzzer went off.  
The second half got off to a quick start and the Gators recaptured their early energy and increased their lead. The Gators continued this throughout the second half and maintained their strong dominance over the game. As the final buzzer went off the scoreboard showed the Gators with 61 and the catamounts with 42. Our student section rushed over with the goonies to take a picture with the team and then rushed onto the court while wishing both the Panther Creek team and their whole student section goodbye as the celebration continued for us. 
This was a massive win for not only our basketball program but also our school and our community. I interviewed  Ty Cane about this momentous win. "We had to come in there thinking we are going to win"  was his first statement. I went on to ask him about his individual performance and this is what he had to say "I felt I played well but its all a team effort at the end of the day" Ty talked about the impact of this win on the program and said that it lit a spark inside of their team and could be the motivator for a deep playoff run. In addition, Athletic Director Fegeley called it, "The biggest win in school history!".