NFL Draft 2023 Round 1(Top 10 Pick Grades)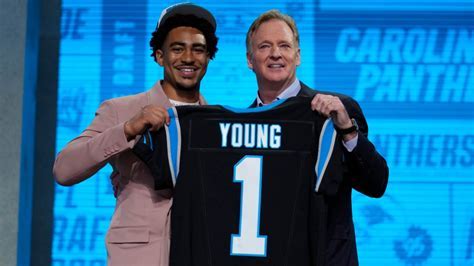 The first round of the 2023 NFL Draft is underway and it all began last night with the Carolina Panthers being the first team on the clock. With a bunch of crazy moves and choices in the top 10 here are the grades of those picks:
Carolina Panthers- Bryce Young A+: Even though his height may be a problem to some, his upside potential and talent is unmatched to any other quarterback in this draft.
Houston Texans- CJ Stroud A+: His final game against Georgia last season proved a lot to NFL teams in what they would be getting if they drafted him and to many he was the best quarterback in this draft. His intelligence was questionable but that should not be much of a problem.
Houston Texans (via Cardinals)- Will Anderson Jr. A++: Fantastic move by the Texans to move up from their 12th pick and draft the best defensive player in the draft. Anderson's ability to get through the line and get to the quarterback with ease will make him a huge threat in this league.
Indianapolis Colts- Anthony Richardson B: Great potential on Richardson but his only issue in question is his accuracy which when you are an NFL quarterback is a pretty big thing. Though his ability to use his legs and make plays happen outside of the pocket is huge for the Colts.
Seattle Seahawks- Devon Witherspoon A-: His ability to break up passes, run fast and hit hard is the reason that the Seahawks drafted him. The only problem with this pick was them passing on Jalen Carter and Tyree Wilson who were arguably the better picks here.
Arizona Cardinals (via Lions)- Paris Johnson Jr. A+: The best offensive linemen in the draft and exactly what the Cardinals needed to help protect Kyler Murray.
Las Vegas Raiders-Tyree Wilson A: Best player available at the time aside from Jalen Carter which is the only reason he is not an A+. Great Edge Rusher Wilson is and he will do a very good job of disrupting many plays this year. Only issue is his questionable injury history in which he suffered a fracture in his right foot last year.
Atlanta Falcons- Bijan Robinson A+: The Falcons continue to add to their collection of offensive weapons over the last 3 years this year being Robinson. One of the top prospects in this draft and by far the best running back the Falcons got a steal of a back at pick 8.
Philidelphia Eagles (via Bears)- Jalen Carter A++: Even though he had a run in with the law a few months ago, putting him around the talent that the Eagles have and especially having former teammates will make him a threat to anyone who tries to run the ball on the Eagles defense.
Chicago Bears (via Eagles)- Darnell Wright A+: Many Bears fans may be upset that they traded back from 9 and drafted Wright but this was the best option for them. Jalen Carter was not what the team primarily needed and with this offensive line help for Justin Fields, the Bears are going in the right direction.
Rounds 2 and 3 of the draft continues today at 7pm ET and begins with the Steelers at the 32nd pick. Rounds 4-7 finish off tomorrow and start at noon ET. Good luck to every team with their picks.