The Best Hiking Trail In North Carolina
North Carolina is home to lots of Natural Beauty from the Smoky Mountains and Blue Ridge Parkway to the Outer Banks. All this natural scenery makes North Carolina a great place for hiking and other outdoor activities. With so many trails to choose from it is often hard to find the right one and a good one. One of the best trails in North Carolina is the Mountains to Sea Trail which stretches 1,175 miles from east to west, from the Great Smoky Mountains to the Outer Banks.
The trail 725 miles you can trek on foot and 425 miles you can paddle on kayak through North Carolina's waterways. It is North Carolina's largest marked footpath, taking about 2,112,000 steps to complete. It includes highlights such as crossing the highest peak, and highest sand dune in North Carolina. It passes through 37 counties, 4 national parks, and 2 national wildlife refuges.
The trail comprises of 18 segments, starting off with segment 1 at Clingman's Dome. Segments 1-5 are the mountain portion, segments 6-10 go through the piedmont region and segments 11-18 make their way through Coastal Plain and Outer Banks, with segment 18 ending at Jockey's Ridge.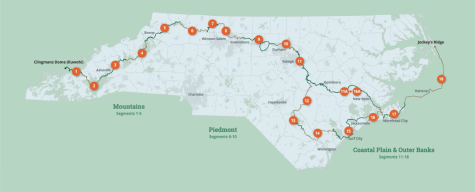 In the map above, segment 11A-16A is a 169.3 mile paddle route through the Neuse River, going through historic towns such as Smithfield, New Bern, Seven Springs, and Kinston.
There are 2-ways to complete the MST, thru-hiking or doing it as a section hike. Thru-hiking is completing the trail in one continuous long outing. Section hiking is hiking the route in short segments over an extended period of time with lots of rest inbetween hikes, this can take several months or years. For thru-hiking it takes about 3-4 months to complete the entire trail but the time can vary depending on the fitness of the hiker and their speed. 
If you complete the trail you can receive a certificate at Mountains To Sea Meeting every spring. Before you start your adventure they ask that you fill out this form to let them know who will be on the trail and to help you connect with others who have completed it. In addition, this trail is always being updated and camping facilities are sometimes limited, they can help you with planning logistics of the hike. They encourage you to take pictures and keep a journal so that you can always remember this adventure. Once you have completed the whole trail, you will need to download this application form and mail it to their office. Then you will just need to attend their annual meeting to receive your award. There are also certain requirements for completing certain sections of the hike which you can read here.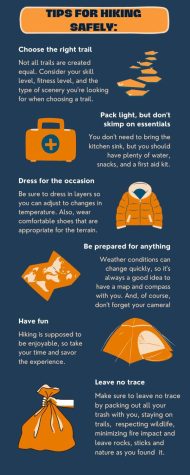 The segment(s) of the trail closest to the triangle area include Segment 10 (Eno River & Falls Lake) and Segment 11. Segment 10 is called Eno River & Falls Lake and is 78.6 miles of hiking from Eno River State Park to Falls Lake Dam, with hikes ranging from easy to moderate. Segment 11 is called Neuse River Greenways & the Let'Lones and is 65.9 miles from Falls Lake Dam to Howell Woods, with all hikes being classified as easy. Segment 11 also includes paved roads on the Neuse River Greenway which are perfect for cycling, walking, and also accessible to wheelchair users. For many people, they just want to find a day hike, so if you scroll down on the website there are many day hikes ranging from 1-7 miles, so there is something for everyone. You can find day hikes for Segment 10 here.  On the MST site you can also find a downloadable trail guide, and check trail updates and conditions. AllTrails is also a great resource to use to check specific hikes and trails for the most recent conditions, as you can look and see what hikers in the past week have said about the trail.
If you are looking for activities to do this summer, or a weekend trip, hiking is great activity to get outside and experience the natural beauty of our state. The Mountains to Sea Trail is a great way to find beautiful hikes all across the state. Remember to always check trail conditions before starting your hike, packing enough water and snacks, and always leave no trace! Enjoy your adventures!