Athlete of the Week
This week's nomination comes from Abby Lu, who tells us, "I would like to nominate Karissa Cinque to be Athlete of the Week! She is a hard worker and one of the most outstanding swimmers on the Swim and Dive team, but she doesn't get enough recognition for it. She placed 9th at Regionals for the 500 freestyle and 15th in the 200 freestyle, earning Green Level points for both events, where she was up against juniors and seniors. She currently holds our team records for those events! She also played a key role in our 400 yard freestyle relay at Regionals, which made States and will be competing tomorrow (Feb. 6). She is very encouraging and supportive of her teammates, and she definitely deserves to be Athlete of the Week." 
When we talked to Cinque, she was modest about her success, telling us that she thinks "I've done pretty well this season and my teammates, I think they have done an exceptional job…I'm just really proud to be on the Green Level Swim Team because for only freshman and sophomore we've done pretty good, like made it to states and that's not really common."
We hope that this title gives Karissa the recognition she deserves, and even though the first swim & dive season has ended here at Green Level, she and other hard workers such as her did great at the state competition by representing our Gators in the water! Congrats, Karissa!
Have someone who you think deserves an article just like this one for them next week? Click here to nominate them! 
About the Contributor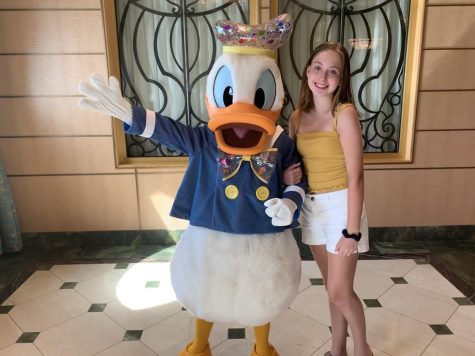 M. Grabowski, Editor-in-Chief
Editor-in-Chief Milla Grabowski has worked with everything from writing to photography, and enjoys cooking and hanging out with friends in her spare time....