Artist of the Week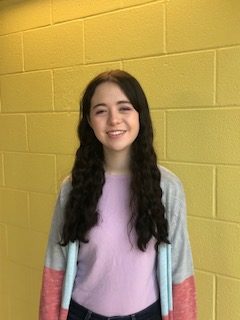 A. Rudolph, Student Life Section Editor
March 5, 2020
Congratulations to Abigail Kutz, our Artist of the Week! Kutz is the President of Green Level's Art Club, and also participates in the art classes that we provide here. Mr. Mapp, the art teacher here at Green Level, nominated Kutz, saying, "I nominated Abigail because her artwork is really creative but also highly skillful and she works really well with other people. I just wanted to highlight all of the hard work that she showed in the art class and out of the art class." Abigail's artwork is truly amazing, and if you're curious go down to the art classroom where all of the class' artwork is on display.
Art has been something in Kutz's life since the beginning. "For as long as I can remember it was something that I wanted to do when I was bored." As Kutz grew, both in age and in skill, she began to view it more seriously. Lately she has been into watercolors and the way that this aspect of art makes the colors look. "I like how the colors are so vibrant and you can almost see through." 
For young and just starting artists, Kutz suggests that you would continue to grow from critiques and not be hindered by them. She stated, "Don't compare yourselves to other artists. In doing that you're just judging yourself and you're not growing. Listen to critiques and realize that you're growing and don't take them personally, instead use them to become a better artist." If someone only uses helpful critiques to grow their skills you will see improvement over time. 
Congrats Abigail!