Student Artist Spotlight: Megan Gungor
For most students, their knowledge of sculpture consists of building a card tower, playing with legos, or folding some paper in funky shapes. But sophomore Megan Gungor's skills advance far past that. 
Megan was eagerly recommended by Mr. Mapp to kick off this year's artist spotlights. She grew an interest in art during eight grade, where she began painting. Later, she shifted towards creating miniatures of characters, animals, and locations. From there, she turned to sculpture. Her first art class was with Mr. Mapp last year, and she says that she couldn't have asked for a better teacher. She hopes to learn and improve even more with his help and the help of her classmates.
Megan's beautiful, delicate-looking creations are made of many untraditional supplies. From recycled goods such as cardboard or plastic bottles to natural building blocks like flowers or twigs to purchased supplies including popsicle sticks or wire, she turns what one student would consider trash into her own unique treasure. "I have made sculptures from shoes, a chess game, decks of cards, and even a book," Megan explains. If you had Mr. Mapp last year, you might have stopped to admire her miniature replica of the art room made to impressive accuracy. That fine touch makes its way into all of her creations.
The importance of art is clearly something Megan holds dear. "Art can be a way to express your ideas, a way to relieve some stress, a way to connect with others, or even a way to document history," she explains. When asked if she had any advice to artists interested in sculpture, Megan suggests they begin by having fun and experimenting with whatever mediums they can find. "Don't be discouraged if your piece doesn't turn out exactly as you had seen it in your mind," she says, "You've learned new techniques and new skills that you can apply to the next piece to make it even better." With her wisdom and skill, Megan proves herself to be a fantastic role model for 3D artists everywhere. 
If you would like to recommend yourself or someone you know for our artist spotlights, please email [email protected].
About the Contributor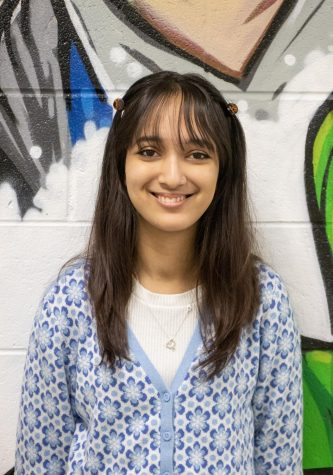 D. Khan, Co-Editor In Chief
Daneen is a senior writing for her fourth year on The Gators Eye. When she's not in class, she's binging old Disney movies, reading comic books, or...