Sweet Heart Shaped Souffle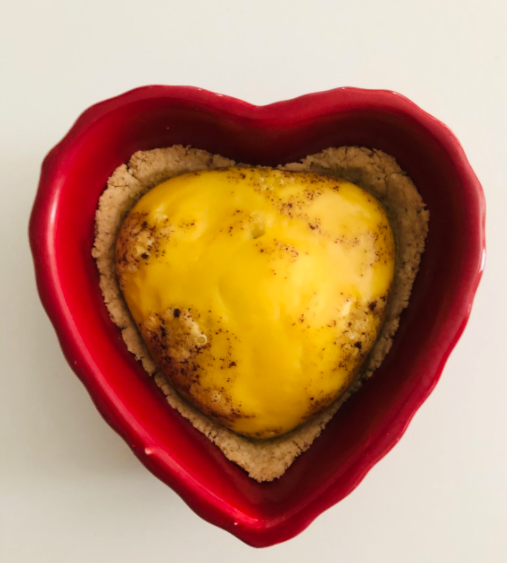 Seeking to satisfy a sweet tooth and stay satiated at the same time? Delay the search no longer, as one could wake and bake this rapid recipe on Valentine's Day. One could be content with cravings while fueling with nutrition simultaneously. Upon a deep dive into health, this splendid sweet treat is keen on utilizing whole ingredients, without compromising flavors waiting to be savored. 
The homemade crust is made with grounded oatmeal and coconut oil, rich in fiber and antimicrobial properties respectively. Fiber regulates bowel movement and antimicrobial properties ward off bad bacteria. The vanilla custard filling is made with omega three enriched eggs. This is an added benefit for brain function and heart health. 
In addition, the vanilla custard filling is given a dash of pink himalayan sea salt, abundant in trace minerals and essential electrolytes. Trace minerals and essential electrolytes are imperative for hydration. Moreover, it is made with low fat milk. The perk with low fat milk is that it is low in saturated fat and cholesterol. Therefore, it contributes to preventing clogged arteries. Likewise, it is plentiful in bone building calcium and muscle strengthening protein. 
When ready to serve, sprinkle a little cinnamon to enhance the souffle with antioxidants, so one's immune system could steer clear of metabolic stress.
With the availability and opportunity to reap these benefits being beared in mind, the time is here to share the secret behind this simple, but delicious dish below:
Two cups old fashioned oats, grounded in blender
Four tablespoons unrefined coconut oil, melted
One large egg, whisked until fully combined
Three tablespoons robust maple syrup
A dash pink himalayan sea salt
Half cup two percent milk
Bon Appetit! Enjoy! For more inquiries, email [email protected]