Mae Caira In the Kitchen
Few people in the world seem born to do something, but nobody can deny that Mae Caira was born to cook. Last summer, Mae interned under a Top Chef winner in Austin, Texas. She's just begun her junior year, yet she's already got a job offer on the table. Surprised? Take one look at her food and it'll immediately make sense. 
Last May, Caira had a Zoom meeting with Kristen Kish, a professional chef and season 10 winner of Top Chef. Kish offered Mae the opportunity to intern at Arlo Grey, her resturaunt in Austin, Texas. Mae went down south in July to cook with the professional chef for a few days and work in the restaurant. "I definitely learned a lot, not just in cooking but in that now I know what I want to do for sure [as a career]," Mae says. She was impressed by all the high-quality dishes and grateful for the experience, especially since Kish had never chosen a high schooler to come and work for her before. 
Mae had no restaurant work experience before her internship, but she's had an interest in cooking since the second grade. "I would make scrambled eggs and sauteed spinach every morning before school and it just went from there," she shares. Mae also mentions that she struggles to enjoy eating food not made from scratch–she prefers to make even the most basic foods herself or eat them freshly made. Mae is a self-taught cook who primarily learned from trial and error and testing things out at home. However, she did take home-ec classes in middle school and Foods 1 and 2 at Green Level.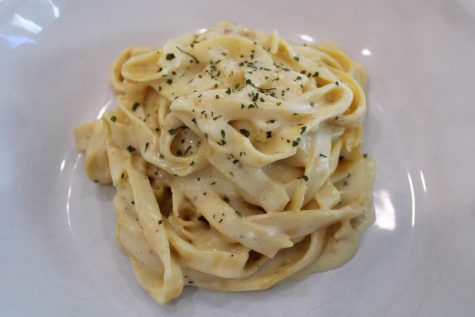 Despite still being a junior, Mae has a professional job already lined up. Kish offered her a place at Arlo Grey, and she plans on taking up her offer in the summer and possibly after her senior year. She doesn't intend to go to culinary school because Kish said she doesn't need it: Mae already understands the general skills they'd teach her. 
Although she doesn't plan on pursuing a formal education in cooking, Caira knows she'll pursue a career in the culinary arts. She feels at home in the kitchen and finds herself relaxed when preparing meals. "When I was in the kitchen in Texas," she says, "It felt like the most natural thing I'd ever done. Even though there were around 160 tables and it was really busy… I get stressed a lot, but it just felt so natural." Mae loves all sorts of cooking, and especially enjoys making homemade pasta and fresh bread. There's no doubt that her from-scratch creations taste a million times better than those sold at grocery stores.
Whatever the future brings, Mae knows she wants cooking to be a part of it. And with just one look at the dishes on her Instagram page @chef_time_kitchen, you'll be able to see why. We have no doubt that this young chef will become a star in the culinary world.