Volleyball Defeats Rivals
Volleyball is now 12-0 and ranked 4th in state.
M. Nereu, Staff Writer
September 17, 2021
Thursday, Sept. 16 our Women's Volleyball team traveled to Panther Creek, where they would play their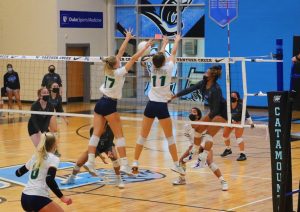 twelfth game this season. With Panther Creek being where most of Green Levels students came from this would be a big game for our gators. However, this didn't scare our lady gators one bit. 
The previous day I was able to talk to one of our senior gators, Nicole DeOliveira. Considering this was such a big game for them and her being a student that came from Panther Creek, I wanted to get her thoughts as they prepared for the game. I asked how she felt going into the game and with no hesitation she said, "Given the fact that we recently swept Middle Creek 3-0 and they beat Panther Creek 3-0 Tuesday night, gives me confidence that we will be able to beat them Thursday. Hopefully we all play good and it will be interesting for all of us that went to Panther Creek and played for them Freshman and Sophomore year." They definitely took this confidence with them as they headed into game day.
Our lady gators came out strong winning set one 25-19. They would go on to win the next two sets, sweeping Panther Creek 3-0. Not only was Volleyball excited about the big win against our rivals, but so were our students, who all rushed the Court after the game. Women's Volleyball has had an amazing season so far and it seems like they plan to continue their streak of being Undefeated, now on a twelve game winning streak. With all the big success our team has had thus far they are now ranked number four in the state of North Carolina on MaxPreps.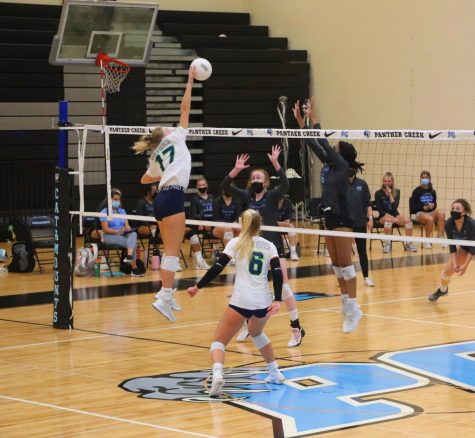 With that being said they have no breaks and will travel to, and compete against four time state champs, Green Hope High School this Tuesday, Sept. 21. This will be yet another big game for them so come out and support your lady gators as they take on the Falcons.