Women's Basketball is Back
M. Nereu, Staff Writer
September 22, 2021
As September slowly comes to an end, we are getting closer to winter and you know what that means. Winter Sports! Women's basketball is back in action, taking advantage of the preseason opportunities. They are going into their third week of workouts and have been working hard in practice. With last year's season being cut short because of COVID, these lady gators are looking to have a big year this year.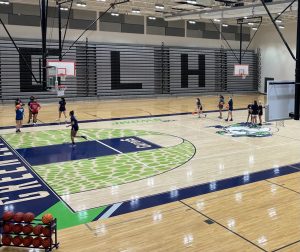 I was able to talk with a few girls on the team about how the preseason was looking so far and from the sounds of it, it's been pretty good. Junior Audrey Ericksen says "Workouts are going great, Coach Woolf is making everything competitive which is something I love. We get better each day and our team is connecting really well. I am so excited for the season, we're going to be special this year." Audrey did well her Sophomore year averaging double digits and being named All-Conference. She is looking to do even better this year! I was also able to talk to Senior Samantha Bonello. With multiple Seniors on the team I asked her what she was looking forward to in her last season and what the team was looking to accomplish. She said "I am looking forward to playing with my best friends for one last season. We are looking to accomplish going to states and being undefeated."
Sadly, Head Coach Mike Robinson retired after last season but fortunately the Women's Basketball team was able to pick up another great Coach. This is Coach Woolf's first year coaching Women's Basketball at Green Level, but he's already rising to the occasion.  After speaking with Coach Woolf, he says the team goal is to "Achieve as much as we can as a team this season and improve as much as we can as people and as players."
The new SWAC Conference won't be easy, but these Gators won't back down from a challenge. With a bright future ahead you won't want to miss their games. Stay tuned for game days coming in November!