Green Level Volleyball Weekly Recap
Khushi Shah, Halle Gibson, and Ellie Sampson weigh in on the week.
The Green Level Volleyball team improved their record to 13-1 after sweeping Cary for a second time. Last Thursday our Lady Gators faced a tough first loss of the season against the undefeated Green Hope Falcons, however they bounced back quickly. They came out ready to play, winning the first set 25-7. Starting in the second set, The Gators began pulling out their starters and giving the underclassmen a chance to get some game action. Even with very few starters in the game, The Gators still managed to crush the Imps 3-0, ending the game in about an hour.
Senior Halle Gibson feels really good about last night's win. She says, "Last night was super easy. Cary didn't have all their starters so it was a blow out." As they prepare to take on Middle Creek Thursday she says "I'm super excited for Thursday's game against Middle Creek. They have some really good players so it will definitely be more exciting and more fun than the game against Cary."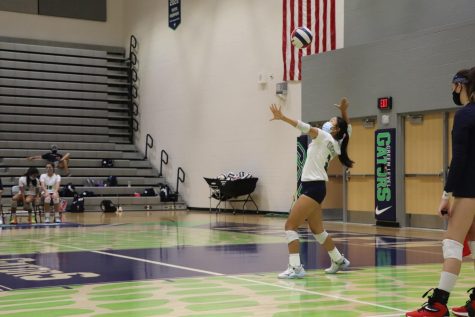 The Green Level Girls faced off against Middle Creek on Thursday night. The girls swept the series 3-0 winning the sets by a large margin of points. They played with class and style and improved to 14-1, remaining in second place in their division. Green Level continues to maintain their record to try and take back the conference lead from Green Hope when they face them for a second time on October 14th. When asked how they are preparing for the rematch, Khushi Shah says, "We're practicing every day … we're good … we're about equal to them" Shah believes the two teams are about evenly matched and that this time, we have a home court advantage. Ellie Sampson said, "We've been watching video to see what mistakes we made in that game, and we've been practicing our serve receiving so we can get our offense going more than we did last time."
The Gators are preparing and ready for revenge, good luck Gators!