Gators Advance to State Championship in Five Set Thriller
The Gators are the East Regional Champions.
C. Hall, Staff Writer
November 3, 2021
After an amazing five set win over Cardinal Gibbons, it was time for the 4a East Final, where the Gator Volleyball team took on the DH Conley Vikings. Located in Greenville, NC, Conley was a 2 hour bus ride away for the gators, but that did not deter the support of the Goonies, who showed out in full force! With loud chants and jeers from both sections, this packed stadium was ready to witness history.
The first set was a tale of two halves. Starting off rough, the Gators could not adjust to the Vikings attack. However, trailing 20-14, the Gators rattled of ten consecutive points, and eleven of the final twelve, for a set one victory by a score of 25-21. This set proved that Conley's attack was not to be taken lightly, but was a great step in the right direction.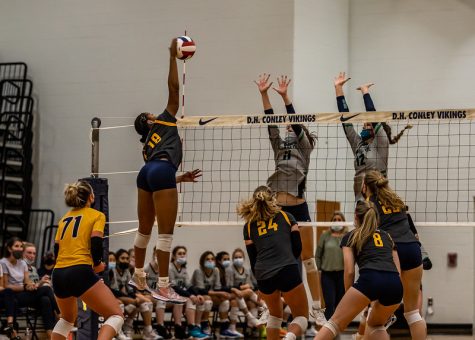 The second set was all gators, all the time. Never letting DH Conley come close, the Gators dominated the second set. The Gators at one point were up 15-3, and took the set with ease 25-12. A major key for the gators great start was their blocks at the net. I asked middle blocker Lizzie Boggess how they prepared against some of the major offensive threats of DH Conley "They had a really good middle (Ashlyn Philpot) and at first our main focus was stopping her. But, we noticed their outside hitter beside her was strong as well, so it became more about hitting strong serves, to prevent good sets."
With their back against the wall, the Vikings showed great resilience. Great spike placements saw the Vikings take the  third set 25-22. The fourth set of the match often proves decisive, and with a exceptional all around performance from Conley, they took the fourth set 25-13, the largest loss of the season for Green Level.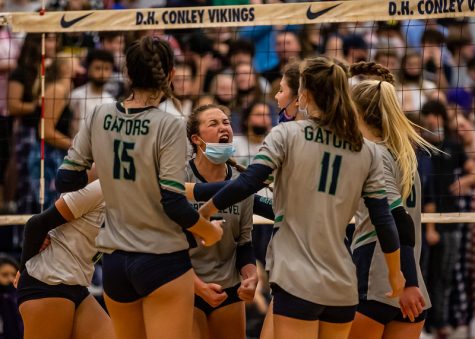 With the momentum totally shifted, both teams and fans stood up to rally behind their teams. The importance of a hot start in this deciding set could not be understated. That hot start fortunately fell the Gators way, taking seven of the first 10 points. Morgan (Mo) Downs, had three huge spikes in the final set, sending them to the back corner. This allowed them to settle in, and take the set 15-10, sending Green Level to its first ever team State Championship!
This huge win puts the Gators one win away from a State title. To win this title, the Gators will have to take on Ardrey Kell from Charlotte, NC, who won the 4a west. The teams will meet on Saturday in Reynolds Coliseum at NC State, at 4 pm. The student's support means so much, so anybody who can make it, I encourage you to come! Good luck Gators!