The Long Awaited Release – Red (Taylor's Version) Review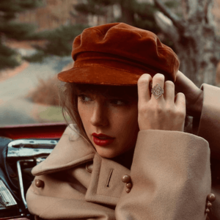 When eleven time Grammy award winner Taylor Swift drops a re-recording of one of the most popular pop-country albums of all time, there tends to be a lot to unpack. 
Originally released in 2012, Red had taken charts by storm back then, and its re-recording did it once again on November 12th. Red (Taylor's Version) is the singer's highly anticipated release.  Taylor's Version definitely did not disappoint, meeting and exceeding our expectations. From All Too Well (10 Minute Version) to Message In A Bottle (From The Vault), we were taken on an emotional rollercoaster. The waves of nostalgia were ever present and it felt like we were listening to it for the first time. 
Sonically, Red (Taylor's Version) kept its pop and country fusion that the original release had. She had originally written 30 songs for the album, with 16 making the final cut – now, the new release boasts 30 tracks, altogether 2 hours and 10 minutes of lyrical genius and addicting melodies.
All Too Well (10 Minute Version) was one of the songs people were most excited for. With the original version being one of her most popular and beloved songs, the 10 minute version was one everyone wanted to hear. To pair with this Swift also released a short film starring Dylan O'Brien and Sadie Sink portraying the song. In our opinion, the 10 minute version of this heartbreak-ridden song was gorgeously devastating. The short film only amplified this emotion, with O'Brien and Sink's stunning performances. 
Taylor's songs from the Vault piqued curiosity in fans before their release. It's easy to see why, considering that the extremely talented Phoebe Bridgers was featured in Nothing New (From The Vault). This collaboration worked perfectly with Swift's warm voice blanketing the lyrics and Bridgers' singing isolating the emotion in a sharply cool way. 
Another Vault song, I Bet You Think About Me (feat. Chris Stapleton), has even gotten a music video. Directed by Blake Lively, a close friend of Taylor's, the music video has left fans questioning everything. It is riddled with easter eggs, including a mention of the infamous scarf. The video has also left viewers confused which re-recording will be next. Some believe that the cake's design, which includes frosting in the shape of seagulls, is an ode to the sweater she wore on the cover of 1989. Others suspect that the dramatic red dress Swift wears at the end of the video is a callback to the gown she donned on cover of Speak Now's deluxe edition.
Finally, Message in a Bottle (From The Vault), is a pop song reminiscent of the early 2010s, around the time Taylor blew up with her 1989 album release. The song was written by a dream team, with Shellback, Max Martin, and Taylor herself creating nostalgic odes to the original pop direction Taylor wanted for Red. 
With Red (Taylor's Version), Taylor Swift comes one step closer to owning all of her albums and work. As big fans of Taylor and her music, we can't wait to see which step she takes next. Whether it be 1989 (Taylor's Version), Speak Now (Taylor's Version), or another entirely different album she decides to release, we know that fans all over the world are eagerly waiting. 
You can listen to Red (Taylor's Version) here!