Committed: Samantha Armand to UNC
Samantha Armand has committed to swim at the University of North Carolina at Chapel Hill
Samantha Armand, a Junior here at Green Level, has committed to further her academic and athletic career at The University of North Carolina at Chapel Hill.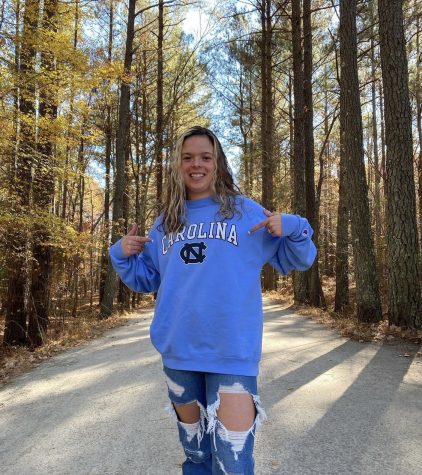 Armand is a member of the swim team here at GL, as well as for TAC Titans , a local swim club/team.
When asked about the recruitment process, Armand states, 
"It starts one day…I was in a different state for swimming watching my team… and you just get bombarded with a bunch of emails so you have to go through, scroll… and then your parents get sent emails and so they send them back to you..There were definite noes, and then you'll have the ones that you really like, which I did, and so you'll reach out to them… they will email you back and you'll set up calls."
She was able to inform us that she went on an official visit to UNC a couple months ago and that it was a really big aspect in her decision to commit. 
"It was so fun to bond with the team, they were just all so connected… It's closer to home which I like…the coaches are similar to the ones I have now on my team, and they are really involved with the team."
In regards to swim events, Armand will be competing in the breaststroke, a little bit of IM (individual medley), and possibly the sprint freestyle while she attends UNC.
As she prepares to compete at the collegiate level, Armand will continue to swim on the team here at Green Level and for Tac Titans.
We applaud Samantha Armand on her commitment, wishing her the best of luck as she continues to compete at the high school/club level and later further her athletic and academic career at UNC in the upcoming years!