Oreo, We're Disappointed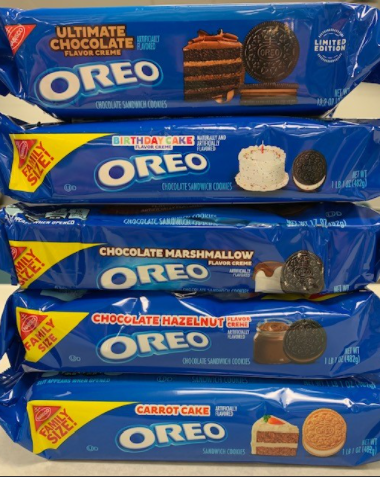 We all love a good oreo, but have you tried any weird flavors? Neither had we, until now. We reviewed five weird Oreo flavors; carrot cake, ultimate chocolate, birthday cake, chocolate hazelnut, and chocolate marshmallow. Which one is the best? 
The flavors sound good, but never judge a book by its cover. Jade Ford, Claire Nestor, and I all started off strong with carrot cake. When opening up the package it did not look like a regular oreo. The cookie was a burnt orange color and the creme was white with specks. The oreo did not taste like carrot cake but it was not terrible. Nestor said, "It tastes like cinnamon rather than carrot cake, but overall good." We all thought it tasted like a cinnamon cookie rather than a carrot cake. Overall, the carrot cake oreo was okay. 
The ultimate chocolate cake flavor is a limited edition, triple-layer creme oreo. The oreo creme's flavors are milk chocolate, dark chocolate, and white chocolate. There is a clear difference in flavors, allowing you to taste the difference in layers. Here are our thoughts: Lily said, "The oreo is good, tasting better than a classic oreo." rating it 8.5/10. Claire said, "If the outside of the cookie was a flavor, it would be this cookie.", rating it a 6/10. Last, Jade said, "The ultimate chocolate oreo was very chocolatey." rating this Oreo an 8/10.
The third flavor we tried was birthday cake. Now this one actually matched what it tasted like. Although it was a birthday cake, there was very little flavor. Jade said, "This one tastes like a regular Oreo with more vanilla flavor." I would give this flavor a 6/10. It is average. 
Next up is the Chocolate Hazelnut Oreo. This Oreo consisted of classic chocolate wafers with a hazelnut filling. Here are our reviews: Lily said, "This Oreo was really bitter and did not taste good, I rate it a 3/10." Claire said, "This tastes like if a Ferrero Rocher was a cookie, I rate it a 7/10. Jade said, "The chocolate hazelnut oreo tastes like an oreo dipped in Nutella, I rate it an 8/10." Overall, Lily and Jade did not enjoy this Oreo but Claire loved it. 
Lastly, we reviewed the Chocolate Marshmallow Oreo. This Oreo's appearance consists of the chocolate wafer with marshmallow bits incorporated within it. This could have easily been the classic chocolate cookie with marshmallow creme. Here are the reviews starting with Lily, "It was okay, kind of tasted like poop. I rate this 6.7/10." Claire said, "It does not taste like a s'more. I rate it a 3/10." Last, Jade said, "This oreo was so bad and tasted like a bad s'more. I give this a 0/10." The chocolate marshmallow oreo had a terrible flavor.
Now for our favorite and least favorite flavors: 
Favorite Flavor:
Lily: My favorite flavor is the Ultimate Chocolate Cake flavor because it was good and the creme in the middle was fluffy and yummy. I recommend it. 
Claire: Chocolate Hazelnut! It tasted like Nutella, the icing to cookie ratio was good, and it wasn't too rich.
Jade: My favorite was the Ultimate Chocolate. It was very rich in flavor. The chocolate was creamy and you could taste the different flavors of each layer of filling.
Least Favorite Flavor:
Lily: My least favorite flavor was Chocolate Hazelnut because it tastes like chemicals. Oreo needs to step it up and make their flavors taste like their title. I am disappointed in this flavor. 
Claire: Birthday Cake tasted like an average vanilla oreo, I was expecting something different for it being such a popular flavor.
Jade: My least favorite was Chocolate Marshmallow. It tastes like if you eat both an Oreo and the mini marshmallows from your hot chocolate packet together. It was too artificial and tasted like chemicals. 
We are disappointed. From the titles of the flavors, we thought they would taste a lot better than they actually did. Most of the flavors just tasted like a regular Oreo or worse.