The Rise of Wordle: Five Letters for Success
D. Khan , Student Life Section Editor
February 1, 2022
Five letters. Six tries. Millions of players. When Josh Wardle created the trending game back in November, he never expected it to blow up. He designed the game for Palak Shah, his word-game loving partner. According to a BBC interview, Wardle created the Wordle (a fun pun on his name) and first sent it to his family and friends–from there, the simple show of love blew into one of the internet's most popular new games. Now it's been purchased by the New York Times.
A huge factor for Wordle's rise to fame was the social media exposure it received. There are countless TikTok accounts dedicated to sharing their strategies and scores. Debates have arisen over the best starting word (Adieu? Radio? Or just the first thing to come to mind?) and smartest techniques (try and eliminate vowels and common letters, or build off of your first word?). But even though people can't stop talking about their results, nobody ever shares their score directly–everyone has the same word, so scores are represented with green, yellow, and gray boxes to show placements without giving away letters.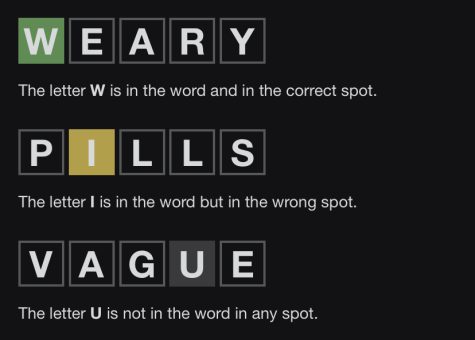 The popularity of Wordle has resulted in dozens of copycats popping up. Absurdle takes the game to another level by changing the word as you continue to play. The Wordle Archives let you replay every day's word since its creation. If five letters are too short, then Hello Wordl lets you play for up to 11. And Swifties will love Taylordle, where every word relates to the music superstar. But in the end, no amount of copycat word clones can compare to the original. 
So what is it about a daily word game that makes it capture everyone's attention? According to MSN, it's the game's simplicity. Everyone enjoys the same quick, five-letter word a day. It develops a sense of community; friends and family can share their results every day. And it's completely free (at least, for now–NYT makes no promises) with no ads or pop-ups to dissuade players from checking it out. Despite not having an app, Wordle found a way to be accessible and entertaining for everyone. 
Although it's nowhere close to being the first word game, Wordle has some special spark that made half the world obsessed. It's simple, analytical, and fun. And to think, the trending phenomenon arose from nothing but a romantic gesture. There's no doubt that everyone will keep playing throughout February.