Our Grand Champion Cheer Team
"It was the best routine that I have ever seen them do in Green Level History"
Our Green Level Cheer & Stunt Team performed very successfully at the county competition this past weekend. 
They won their division, Large Varsity, and then ended up finishing as Grand Champions having the highest varsity score of the competition.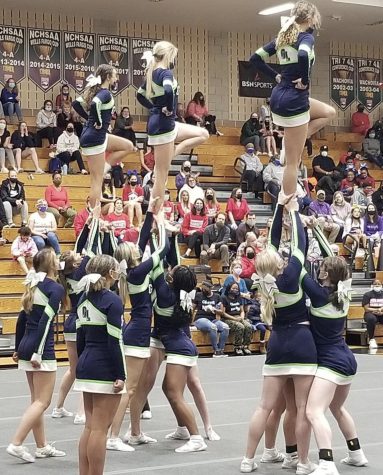 When asking Senior Kiera Hansen about how she felt prior to the competition she states, "I was a little nervous before the comp, mostly because I knew it was my last one and I needed to make it count. Warm ups went really well and I think we were all pretty confident despite the nerves. We hit probably the best routine we have ever done and had 0 deductions."
"It was the best routine that I have ever seen them do in Green Level History, like whether at practice or at a competition… it was literally perfect, we even got a perfect score in pyramid," says Coach Mack on Green Level Athletics IG Live.
Becoming back-to-back SWAC Champions and coming off of achieving Second Place at the State Championship at the beginning of December, Hansen informs us on the ways in which the team prepared prior to the competition,"We had a lot of added practices and even many full days where we were here for school, practice, and then games from 7am to 8pm. When we got about 2 weeks away from the comp, Coach Mack had a goal for us to do 10 full outs a week meaning that in the short two weeks before the competition we had done 20 full outs. This was not very fun at the time but it definitely paid off and got us prepared." 
Six Seniors will be departing Green Level at the end of this year after helping build the program from the ground up. "I have really enjoyed my time cheering at Green Level and getting to be a part of building this amazing program. I think the future of cheerleading at Green Level is very bright as all of the younger girls I have worked with these past years are incredibly talented and hard working. I know that next year and the upcoming years they will continue to preserve and work just as hard to be successful. I can't wait to watch them thrive in all that they continue to do, and wish them all the best of luck in the rest of their cheerleading careers," Hansen states.